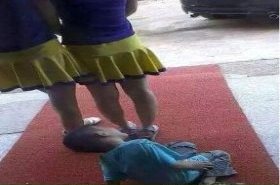 Random good picture Not show
(1) The rabbit is timid and suspicious.
(2) He was rightly suspicious of meeting me until I reassured him I was not writing about him.
(3) You have a very suspicious mind .
(4) I think they're starting to get suspicious.
(5) I was becoming increasingly suspicious of his motives.
(6) If you see anything suspicious you should notify the police immediately.
(7) It's not suspicious that I'm fixating. It's consistent with my personality.
(8) I'm very suspicious about her motives.
(9) They became suspicious of his behaviour and contacted the police.
(10) Some of his colleagues at work became suspicious of his behaviour.
(11) Police said there were no suspicious circumstances surrounding the boy's death.
(12) His reticence about his past made them very suspicious.
(13) His reluctance to answer my questions made me suspicious .
(14) I was suspicious of his motives.
(15) He looks suspicious do you think he's rumbled us/what we're up to?
(16) Inform the police immediately if you see anything suspicious.
(17) You've got a very suspicious mind!
(18) Two suspicious characters were brought in.
(19) The police officer just brought in two suspicious characters.
(20) It's a bit suspicious that no one knows where he was at the time of the murder.
(21) The race organizers became suspicious when the two most fancied horses finished last.
(22) Who's that suspicious character hanging around outside? Sentencedict.com
(23) Detectives are appealing for witnesses who may have seen anything suspicious.
(24) He warned the public to be vigilant and report anything suspicious.
(25) I wasn't going to demean myself by acting like a suspicious wife.
(26) Older people tend to be quite conservative and a bit suspicious of any supposed advances.
(27) Of course I'm telling the truth - you've got such a suspicious mind!
(28) Are you sure you haven't seen anything even remotely suspicious?
(29) The policeman rubbed down the country bumpkin(Sentencedict.com), but found nothing suspicious.
(30) The hospital hit the headlines when a number of suspicious deaths occurred.
More similar words:
suspicion,
officious,
vivacious,
loquacious,
pugnacious,
subconsciously,
consciousness,
suspect,
suspend,
various,
obvious,
envious,
anxious,
dubious,
curious,
previous,
oblivious,
bumptious,
ambitious,
obviously,
previously,
mysterious,
laboriously,
versus,
spit,
spin,
as usual,
sustain,
spill,
spine.