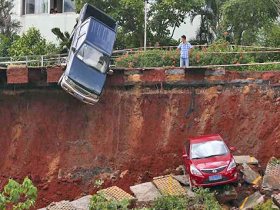 Random good picture Not show
1. Every law has a loophole.
2. The company employed lawyers to find loopholes in environmental protection laws.
3. The legislation aims to close a lot of legal loopholes.
4. The loophole has allowed hundreds of drink-drivers to avoid prosecution.
5. They tightened the loopholes in those acts.
6. It is estimated that 60,000 shops open every Sunday and trade by exploiting some loophole in the law to avoid prosecution.
7. Her accountant was good at exploiting tax loopholes.
8. People who don't want to pay tax will exploit any loophole.
9. A good lawyer can always find a loophole.
10. The legislation closes a lot of loopholes in the tax law.
11. The council voted 5-2 to examine how Colorado and Oregon have handled the background check loophole.
12. Forbes would eliminate all loopholes, including the popular mortgage interest deduction aimed at encouraging home ownership.
13. But no party is willing to refuse to take advantage of these loopholes when the other party is doing it.
14. To liberals[sentencedict.com/loop-hole.html], it means closing loopholes for the rich and strengthening the earned income tax credit.
15. In addition to legally avoiding taxes through the use of loopholes, there is also the unsavory problem of illegal tax evasion.
16. This is not the keeping of the letter by escaping through the loopholes which we have opened up through clever casuistry.
17. Many high-income people can reduce their income tax liabilities very substantially by availing themselves of this loophole.
18. Banks are busily designing privately placed securities that exploit the many available tax loopholes.
19. He will probe unceasingly for loopholes by which to claw his way back to his prewar stature.
20. A recently proposed federal ban on feeding animal protein to animals is encouraging, writes Rhodes, but has too many loopholes.
21. Surely, there's a loop-hole in that arguement.
22. Whenever I got any loop-hole to evade the vigilance of my warders and could contrive to reach the golabari I felt I had a holiday indeed.
More similar words:
loophole,
oophorectomy,
peephole,
whole blood,
photophobia,
photophobic,
phospholipid,
phospholipase,
loop,
hypercholesterolemia,
loopy,
sloop,
looper,
looped,
blooper,
phobophobia,
looping,
photo op,
loopback,
local loop,
open loop,
choledocholithotomy,
choledocholithiasis,
while loop,
closed loop,
familial hypercholesterolemia,
voltage loop,
current loop,
infinite loop,
feedback loop.