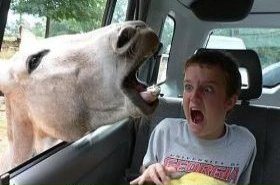 Random good picture Not show
1. There's nothing I enjoy more than a leisurely amble across the moor.
2. I amble over to Odd-Knut to ask a few dumb questions.
3. They amble straight past us, unawares.
4. Every evening, they amble along the bank.
5. Amble from your canopied bed to your own private pool or descend a ladder directly to the sea.
6. They 3 amble past open - air restaurants, across shaded 4 ) patios tucked behind walls of 5 ) Bougainvillea.
7. He was coming along at an amble.
8. The horse is walking at an amble.
9. They amble past open-air restaurants, across shaded patios tucked behind walls of Bougainvillea.
10. Let's go for an amble.
11. She seemed to take a fancy to a green patch further into the field and began to amble slowly towards it.
12. Having nothing better to do on a blustery Sunday,[sentencedict.com/amble.html] I decided to amble along on one.
13. The reason may be that they charge up the hill while their elders amble.
14. I tend now to the sedentary, and when I walk in the city I prefer to amble.
15. I think a more logic al division would be a three-way split into utilities, casinos and people who visit casinos tog amble.
16. Leakey is an infant , but old enough to amble through the canopy on his own.
More similar words:
gamble,
ramble,
preamble,
scramble,
unscramble,
gambling,
rambling,
rumble,
nimble,
stumble,
jumbled,
tremble,
crumble,
assemble,
ensemble,
resemble,
dissemble,
lamb,
assembly,
bamboo,
gambol,
trembling,
chamber,
ambient,
assemblage,
jamboree,
lambaste,
ambition,
ambiguity,
ambiguous.