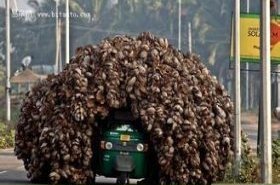 Random good picture Not show
1. The record search process is not usually lengthened at all, so only the increased data transfer time needs to be considered.
2. Query expansion and user feedback during the search process appear to be the most promising routes to follow.
3. Launching into the career search process with even a slightly bruised attitude will end in failure and more dents to your confidence.
4. Algorithms for searching. Debugging is simply a search process.
5. The search process does take time.
6. The Search process includes the indexer (that creates the full text indexes) and the full text query processor.
7. The search process is simple and the results are exact. It is suitable for spectra search, which have low concentrations and unsharp absorption peaks.
8. Produces debug output from generator search process. Useful for debugging custom generators.
9. The component factors of on-line search process can be approached as man-machine system.
10. For a buyer(sentencedict.com), the implication of fast-paced change may be a disincentive to prolong a search process.
11. Therefore firms may respond to high-paced information change by constraining search process time.
12. In this way, the Scheduler UI helps to speed up the search process for available time.
13. Also, there is additional intrigue because Kayak plans to extend this new role into its mobile app and eventually to its core search process, thus totally overturning the travel-metasearch playbook.
14. If the new page doesn't meet users' expectations, the Back button is clicked and the search process is continued.
15. The experimental results show that the address map table is constructed by making use of arboreal storage structure which have advantage of lessening the wasting time to complete a search process.
16. Among the known uses of the pattern suggested by Prof Ortega are "Tree structure operations like search trees, where a search process is created for each node."
17. Google tries to look simple from the outside, but its search process is, as no one will be surprised to hear, quite complicated.
18. This scatter search approach interactively uses a combined dispatching rule to solve a scheduling sub-problem corresponding to each integer solution visited in the search process.
19. Bing (amongst others) are thinking more and more how to apply Smart Computing to the search process.
20. The last part, we train a reference table before search, and update the model parameters with the reference table during the search process.
21. When a full text query is received by the SQL Server query processor, it is handed over to the FTS query processor in the Search process.
22. Finding the right balance amount through a simple text search process is likely to be complicated.
23. A good paper is not a travelogue of your search process.
24. This is where XML has advantages, as it removes the ambiguity and simplifies the search process.
25. But humans, like many other animals, also pay attention to the preferences of others, to make for a more efficient search process. Who others like might also be a good choice for ourselves.
26. Second, it shows that the degree of transparency of the search process is a highly contested variable, which some concerns pressing for greater transparency and some pressing for less.
27. We look forward to conducting a swift, thorough and confidential search process, and accordingly we will have no further comment until we are ready to announce our new CEO.
28. As noted, the first step in the actual job search process is to discover what is you want to do.
29. Having a positive attitude is the one thing that will support your entire job search process.
30. The problem is that with all the new jobs being posted and scattered all over the internet the job search process is becoming more time consuming and complicated for the job seeker.
More similar words:
search program,
search problem,
research program,
research project,
batch processing,
speech processing,
processing procedure,
search path,
search party,
learning process,
microprocessor chip,
process,
process program,
reprocess,
processor,
processed,
in process,
Processus,
bessemer process,
pressure process,
processing program,
production process,
dry process,
due process,
processing,
bioprocess,
procession,
process map,
preprocess,
compression process.