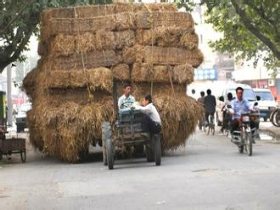 Random good picture Not show
(1) The new cancer drug is a revolutionary breakthrough.
(2) Standard cancer drugs indiscriminately kill dividing cells, causing nausea, hair loss, even death.
(3) Last year, Trent noted, one-third of the cancer drugs approved hit specific targets.
(4) Cancer drugs often have unpleasant side effects, such as nausea and loss of hair.
(5) FDA approves cisplatin, a powerful anti - cancer drug.
(6) The two companies that make leucovorin, a generic cancer drug that's in short supply, are shedding some light on what's causing the shortage.
(7) Objective : To study the anti - cancer drug sensitivity in cancer cells with MTT colorimetric assay.
(8) And researchers are studying uses for the cancer drug Avastin.
(9) A cancer drug called hydroxyurea (Droxia[Sentencedict.com], Hydrea) also is used to treat sickle cell anemia.
(10) Objective : To study anti - cancer drug sensitivity in liver cancer and screen the sensitive drugs for individual.
(11) And researches are studying uses for the cancer drug Avastin.
(12) The anti - cancer drug without a parallel in the world has Been developed and produced in China.
(13) Instead, they're being put in the hands of chemists trying to extract a cancer drug called Taxol.
(14) Agouron is counting on Viracept sales to finance development of several other products, including a cancer drug now in clinical trials.
(15) For example, a new facility there to make anti- cancer drugs is scheduled to begin operations this fall.
(16) Needless to say, a 100 percent response to a cancer drug (or in this case, a drug cocktail) is more or less unheard of.
(17) And it turns that in mice, the problem can be eased by administering a cancer drug.
(18) It has been reported that a small-molecule, novel, mechanism-independent compound has high activity in inhibiting the DNA methyltransferase. It is promising for cancer drug development.
(19) Once inside the tumor cell, the compounds convert from inactive form into an active anti - cancer drug.
More similar words:
designer drug,
sverdrup,
boiler drum,
pancreatic cancer,
cancer,
outward remittance,
dancer,
lancer,
lancers,
cancered,
balancer,
skin cancer,
chancery,
cancerous,
enhancer,
advancer,
tap dancer,
lung cancer,
anticancer,
geomancer,
cancer cell,
in chancery,
oral cancer,
free-lancer,
ballet dancer,
liver cancer,
canceration,
colon cancer,
belly dancer,
precancerous.