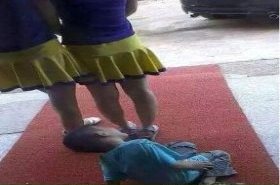 Random good picture Not show
1. In the spring of 2002, Gogol Bordello embarked on a European tour and performed as part of the Whitney Biennial, bringing their music to a whole new audience.
2. The members of Gogol Bordello have also made appearances in film.
3. Gogol walks this very knife-edge, fine-line between a very sharp observation of someone's descent into madness and, at the same time, playing fairly deliciously with their own sense of delusion.
4. Novelette coat is literary classic of Gogol, standing for his typical style.
5. Gogol Street, children from Park Street to the direction of innovation.
6. Gogol onlywrote one book.
7. The story was written by Russian author Gogol in the 1840s during a self-imposed exile to Geneva and Rome.
8. Or he writes all the time and, like Gogol at the end of his life, burns the manuscripts.
9. He is not merely influenced by Gogol in his novels, but also often than not quotes the latter in his essays of social and cultural criticism.
10. Comparing his nation to a speeding troika, Gogol asks what will be its destination.
10. Sentencedict.com is a sentence dictionary, on which you can find nice sentences for a large number of words.
11. 18th century Italian Goldoni Nigeria and France's Boma care of the European Enlightenment period comedy The representative of the 19th century to Russia as the representative of Gogol.
12. Comedy tied together "funny" comics and comics more philosophical, ranging from Amis to Wodehouse via Gogol and Mitford.
13. Academy and Tony Award-winner Geoffrey Rush stars. Even though Gogol wrote about a mid-level bureaucrat in 1835 Russia, Rush says it feels like modern absurdist writing.
14. Local group Theatre du Pif will present Overcoat, an English play based on the century-old masterpiece by Nikolai Gogol about the alienating world of a bureaucratic office in St Petersburg.
15. In Russian literature, judging from depicting art, hardly anybody exceeds Gogol.
16. Here lie the graves of great writers such as Nikolai Gogol, Anton Chekhov, Vladimir Mayakovsky and Mikhail Bulgakov.