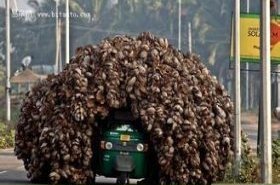 Random good picture Not show
1 The raw material characteristic of polypropene powder produced through small bulk polymerization is analyzed.
2 Objective To evaluate the effect of polypropene mesh on abdominal incisional hernia repair.
3 Most polymers, such as polythene (polyethylene) and polypropene (polypropylene) are not biodegradable.
4 Particles of polypropene, with densities approaching that of water were used as tracer in the water system for the investigation of the flow characteristics.
5 The condition for enzyme immobilization was studied by using polypropene loaded titanium dioxide membrane to immobilize pesticide degradable enzyme EC3.
6 Methods The clinical data of 41 cases in 5 years who received abdominal incisional repair with polypropene mesh were reviewed.
More similar words:
polypropylene,
propene,
community property,
roly-poly,
letter opener,
propensity,
polyp,
polypus,
propensity to save,
polyphase,
polyphone,
polypous,
polypoid,
polyposis,
polyporus,
polyploid,
polyphasic,
polyphony,
polyphagia,
polyphenol,
polyploidy,
polyphonic,
propensity to consume,
polypectomy,
polypeptide,
polyphagous,
allopolyploid,
polypharmacy,
assembly process,
autopolyploid.