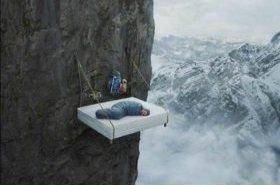 Random good picture Not show
1. Our boat has been rigged up with new sails.
2. He rigged up all the electric wires rapidly.
3. Election officials have rigged up speakers to provide voters with music.
4. The workmen rigged up some tubular scaffolding at once.
5. We rigged up a tent between two trees.
6. We managed to rig up a shelter for the night.
7. I was rigged up to a machine that monitored the baby's heartbeat.
8. He was rigged up to a machine so that the nurses could check his heartbeat.
9. The coach had rigged up a method of beating the opponent.
10. He could not rig up a way to make her believe what he had said.
11. We rigged up a simple and crude shelter for the children.
12. We rigged up a simple shower at the back of the cabin.
13. I rigged up a temporary radio aerial from a coat hanger.
14. Likes to rig up the cards.
15. I've been rigging up a crush.
16. And see if you can rig up something forward-firing.http://Sentencedict.com
17. With the rocket's armaments he rigged up an explosive which killed both the crew and the people of Dido.
18. They rigged up the canvas boat-cover as a makeshift sail.
19. He has also rigged up a special bookshelf a table turned upside down-for his top-bunk bed where he keeps his current books.
20. He's rigged up speakers in the steeple To fool dim-witted country people.
21. The soldiers were rigging up a makeshift bridge.
22. They are rigging up a way to teach him a lesson .
23. Herdsmen are rigging up a Mongolian yurt as a new domicile.
24. Two brilliant university students were found dead in a hotel room after apparently rigging up a laptop to deliver lethal injections in what is thought to have been a suicide pact.
More similar words:
digging up,
rigging,
frigging,
trigging,
digging,
wigging,
diggings,
bringing up,
bringing-up,
biggin,
priggish,
lagging indicator,
ring up,
sing up,
bring up,
tying up,
using up,
spring up,
waking up,
drying up,
string up,
making up,
washing-up,
giving up,
trading up,
shoring up,
soaking up,
winding-up,
backing up,
filling up.