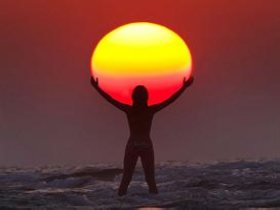 Random good picture Not show
1. A huge, orange-coloured sun balanced on the horizon, and three small, silver-white moons chased each other across a purple sky where alien stars glowed.
2. The orange-coloured beads came from deep within the lunar interior during volcanic eruptions long ago when the moon was still geologically active.
3. Found naturally in green leafy vegetables and in orange-coloured fruit and vegetables, as well as liver, eggs and fish oils.
4. Last year in another play, she had to wear short socks and a bright, orange-coloured dress.
5. As Chelsea responded with an attack, Drogba was scythed down by Zambrotta out wide as the Blues continued to look capable of troubling our fluorescent orange-coloured opponents.
More similar words:
change color,
rose-coloured,
coloured,
uncoloured,
discoloured,
dark-coloured,
flesh-coloured,
multicoloured,
multi-coloured,
orange red,
red-orange,
decolorant,
brightly-coloured,
change course,
decolour,
exchange control,
tone colour,
lose colour,
colourant,
exchange commission,
orange,
give colour to,
colorant,
orangery,
sour orange,
orange tree,
orangeade,
foreign exchange control,
orange zest,
orange peel.