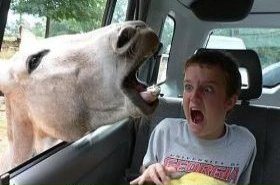 Random good picture Not show
1. Our fellow travellers were mostly Spanish-speaking tourists.
2. English speakers now coexist peacefully with their Spanish-speaking neighbours.
3. Garcia is representing three Spanish-speaking claimants in their case against the state.
4. The students come largely from poor, Spanish-speaking families.
5. Mr. Escalante's students were mostly Mexican-Americans from a Spanish-speaking area of the city.
6. In Guatemala, a lower-middle-income country, 62 percent of Spanish-speaking girls but only 26 percent of indigenous, non-Spanish-speaking girls complete primary school.
7. Some Americans from Spanish-speaking families follow a tradition for the New Year that involves fruit.
8. Peruvian-born novelist Mario Vargas Llosa, one of the Spanish-speaking world's most acclaimed authors and a former presidential candidate in his homeland,(Sentencedict.com ) has won the 2010 Nobel Prize in literature.
9. In the US, where there are many Spanish-speaking people, Latin music is a big part of culture.
10. About 80 percent of that helped Spanish-speaking patients understand hospital staff and vice versa.
11. It's easier to find Spanish-speaking bankers on, say, Wall Street, who might want to move to Mexico.
12. Meanwhile, foreign companies are turning to Brazil not just for the size of its booming domestic market, but also as a platform to its Spanish-speaking neighbours.
13. In the near future we plan to introduce a fully localized, Spanish version of our web site to better serve the increasing number of Spanish-speaking investors from Latin America and Spain.
14. Therefore I am looking for native-speakers who are from a Spanish-speaking country.
15. He was a free black man attempting to make his way in the world, and his arrival marked the beginning of a long and fruitful relationship between New York and the Spanish-speaking world.
16. Brazil has a culture all of its own, but it looks for inspiration to America more than it does to its Spanish-speaking neighbours.
17. In addition, the results of the investigation work for the Spanish-speaking countries of Latin America.
18. At the time of his death, in 2003, Bola?o was a major writer in the Spanish-speaking world but virtually unknown and untranslated in English.
19. He has been a staunch critic of authoritarian regimes around the world, writing a regular newspaper column that is widely published in the Spanish-speaking world.
20. The book tells about a young Mexican American girl growing up in a spanish-speaking area in Chicago, much like the neighborhoods in which Cisneros lived as a child.
21. With a similar duality, the children at Broadway Elementary in Los Angeles are learning to talk in English and Chinese, and some are becoming trilingual due to a Spanish-speaking parent.
22. The gap in attitudes between the global middle class and the poor seems greater in most of eastern Europe and Spanish-speaking Latin America than in, say, Egypt, India and Brazil.
23. When Ernesto Cortes returned to his hometown of San Antonio, Texas, in the 1970s, he was angry that the poorer Spanish-speaking section of the city lacked the services that the other sections enjoyed.
More similar words:
english-speaking,
french-speaking,
speaking,
war of the spanish succession,
public speaking,
german-speaking,
frankly speaking,
broadly speaking,
briefly speaking,
properly speaking,
roughly speaking,
literally speaking,
strictly speaking,
manner of speaking,
generally speaking,
be on speaking terms,
in a manner of speaking,
comparatively speaking,
Spanish,
peaking,
speak in tongues,
spanish war,
spanish fly,
spanish people,
spanish armada,
spanish american,
spanish civil war,
spanish-american war,
spanish inquisition,
speak ill of.