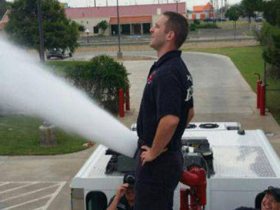 Random good picture Not show
1. For decades, the last known Pinta island tortoise had shown little interest in reproducing.
2. The Pinta , and the Santa Maria — on a quest to show that one could get to India by sailing.
3. Not just the clink of milk bottles, but more strangely, the sounds of a group with a few pintas of potential.
4. It's always a shame when any application ceases development, but doubly so when that application is as well regarded and widely used as Pinta.
5. Informal suggestions at the bi-annual Ubuntu Developer Summit once discussed the possibility of shipping Pinta as a default application. This ultimately never came to anything.
5. Sentencedict.com try its best to gather and build good sentences.
6. Sergio: Christopher Columbus found America in 1492 when his three ships, Nina, Pinta, and Santa Maria made the voyage across the Atlantic.
7. Only one individual, a male named "Lonesome George" survives from the Pinta race.
8. Thankfully, as an open source project, this doesn't have to be the end of the road for Pinta – it's free to be picked up and worked on by anyone with the motivation and know-how to do so.
9. Any group of spirochetes genus Treponema , including those that cause syphilis, pinta, and yaws.
10. But what in reality attracted my attention was the patch of pinta that extended along her belly like a map of the world, with purple dunes and yellow oceans.
11. To test this theory, they studied the skins of stuffed tortoises collected on Pinta in 1906.
More similar words:
pintail,
with pinpoint accuracy,
pint,
pinto,
keep in contact,
pintle,
pinter,
dip into,
rip into,
drop into,
slip into,
pint-size,
half-pint,
pinpoint,
step into,
bump into,
pint-sized,
pinto bean,
up in the air,
intake,
intact,
keep in contact with,
nip in the bud,
in tandem,
vintage,
in taste,
main task,
mintage,
keep in touch,
squint at.