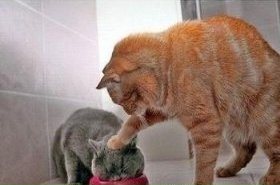 Random good picture Not show
(1) It has long been known that bitemporal hemianopsia is one of the typical manifestations in patients with pituitary tumours.
(2) The clinical manifestation comprised the sudden vertigo or unconsciousness with disturbance of eyeballs, abnormality of pupils, dyskinesia, hemianopsia and chagnes in behavior are often seen.
(3) We present a 13-year-old patient with pituitary abscess, who suffered from vertigo, headache and left temporal hemianopsia. Intrasellar or suprasellar lesion was suspected clinically.
(4) Type C closely resembles nonfunctioning pituitary adenomas with bitemporal hemianopsia and hypopituitarism.
(5) The defect of visual field was detected in all patients, including completely homonymous hemianopsia (12 cases, 67%) and partly homonymous hemianopsia (5 cases, 28%).
(6) In their series of nine adult patients with intractable seizures, all had "severe hemiparesis consistent with severe unihemispheric damage, " a nonfunctional "helper" hand, and homonymous hemianopsia.
(7) Despite anticoagulation and increased BP, the patient progressed to a complete right homonymous hemianopsia, with a mild right hemiparesis , and right hemi body sensory abnormalities. Sentencedict.com
(8) ResultsCompared with patients in NAF group, those in NVAF group were older, severe paralysis, and conscious disturbance and hemianopsia, and less lacunar infarction.
(9) Results Total 11 cases (22 eyes), there were homonymous hemianopsia (9 cases), symmetry defect over central line (2 cases), macular sparing (16 eyes) and macular split (6 eyes).
(10) We present a female patient wills clinical manifestation of pituitary tumor but visual field reveals homonymous hemianopsia.
More similar words:
hemianopia,
bohemian,
bohemianism,
synopsis,
synopsize,
meconopsis,
solenopsis,
hypopsia,
phalaenopsis,
anoxemia,
bohemia,
nehemiah,
ischemia,
piano player,
polycythemia,
leucocythemia,
semiannual,
semiannually,
book of nehemiah,
hemolytic anemia,
luciano pavarotti,
russian orthodox,
methemoglobinemia,
mechanochemistry,
russian orthodox church,
opsin,
topside,
lop-sided,
lopsided,
popsicle.