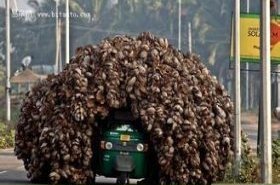 Random good picture Not show
1. The robust stability condition of periodic time variant system is derived.
2. This paper describes the sequence time constraint and periodic time constraint.
3. A weighted role for activating task and periodic time authorization is an unsolved major problem for the access control of a workflow management system (WfMS).
4. In the near future at clustering periodic time series data study up have more and more extensive trend.
5. But, this program can keep spoofing continuously with a periodic time.
6. The zero transfer point can be set arbitrarily by appropriately selecting transmitting periodic time T and number N, and it is advantageous to eliminate some interference in some frequency points.
6. Sentencedict.com is a online sentence dictionary, on which you can find good sentences for a large number of words.
7. Simulation results show that the proposed algorithm can blind identify and equalize periodic time - varying channels well.
8. Principle and performance of SF6 gas density monitor and items, periodic time, standard in field inspection are introduced.
9. The method of discrete spectral line identification presented in this paper applies to the precise spectral analysis of all kinds of periodic time domain signals.
10. The skid bank fatigue life test of automobile transmission assembly has a long periodic time, which should go on under certain temperature and load.
11. Mainly overcoming the shortcoming that the present bodywork advertisement cost highly the driving time, prolonged the issue periodic time of, production cost is high.
More similar words:
periodic table,
periodic function,
periodic inspection,
periodic,
aperiodic,
periodical,
nonperiodic,
periodic law,
periodicity,
periodically,
periodic wave,
periodic motion,
periodic report,
periodic review,
time period,
period of time,
periodic inventory,
periodic inventory system,
periodization,
photoperiodism,
pacific time,
collection period,
geologic time,
victimless crime,
reconstruction period,
iodic,
period,
periods,
pay period,
busy period.