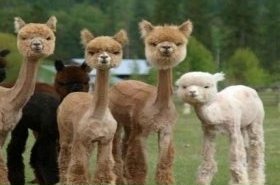 Random good picture Not show
1. Pleasing everybody is pleasing nobody.
2. The arrangement of the furniture formed a pleasing ensemble.
3. This area of France has a pleasing climate in August.
4. This is more pleasing in appearance.
5. Visually the house is very pleasing, but it's uncomfortable.
6. He manifested a pleasing personality on stage.
7. Visually the chair is very pleasing, but it's uncomfortable.
8. The design of the house had a pleasing symmetry, its oblong shape being picked up in its elongated windows.
9. There's no pleasing our teacher, he always grumbles about our work even when we've done our best.
10. Their candor is a very pleasing feature.
11. The view was pleasing.
12. His poem has a pleasing rhythm.
13. There's just no pleasing some people .
14. This painting has a pleasing balance of shapes and colours.
15. It was pleasing to know that the presentation had gone so well.
16. The news was very pleasing to us.
17. There is nothing aestheti-cally pleasing about this bridge.
18. The new building was pleasing to the eye.
19. Music is sweet,
pleasing
and intoxicating, and it has the magical power to influence and change how people feel, think and act.
Dr T.P.Chia

20. It renders a particularly pleasing quality to quail, squab, and pheasant.
21. Whilst this was very pleasing, it was important to explore possible alternative forms of training.
22. It was very pleasing, very liberating.
22. Sentencedict.com try its best to gather and create good sentences.
23. Simple, elegant, pleasing to the eye.
24. You can stain the wood with this special liquid to give it a pleasing color.
25. I like objects to be both functional and aesthetically pleasing.
26. This time the teacher will not mark our English exercises for spelling and grammar, but she will be looking for pleasing expression.
27. Virginia had spent longer than usual over her toilet that evening, with pleasing results.
28. Play with the design onscreen, moving text and pictures until you get a pleasing arrangement.
29. They are superficially similar but have very different underlying meanings - different people are doing the pleasing.
30. Every Minute detail attended to, yet every one with a view to its being useful or pleasing.
More similar words:
increasing,
increasingly,
please,
pleasure,
casino,
plea,
plead,
least,
feasible,
at least,
release,
in the least,
not in the least,
singer,
single,
housing,
missing,
uprising,
imposing,
supposing,
single out,
leading,
outgassing,
promising,
surprising,
processing,
bleaching,
advertising,
reasoning,
disingenuous.