Synonym:
reply,
respond.
Antonym:
ask,
inquire,
inquiry,
question.
Similar words:
answer for,
sweep,
swell,
sweat,
swear,
as well,
fewer,
sweater.
Meaning: ['ɑːnsə] n. 1. a statement (either spoken or written) that is made in reply to a question or request or criticism or accusation 2. a statement that solves a problem or explains how to solve the problem 3. the speech act of replying to a question 4. the principle pleading by the defendant in response to plaintiff's complaint; in criminal law it consists of the defendant's plea of `guilty' or `not guilty' (or nolo contendere); in civil law it must contain denials of all allegations in the plaintiff's complaint that the defendant hopes to controvert and it can contain affirmative defenses or counterclaims 5. a nonverbal reaction. v. 1. reply or respond to 2. give the correct answer or solution to 3. respond to a signal 4. understand the meaning of 5. give a defence or refutation of (a charge) or in (an argument) 6. be liable or accountable 7. be sufficient; be adequate, either in quality or quantity 8. match or correspond 9. be satisfactory for; meet the requirements of or serve the purpose of 10. react to a stimulus or command.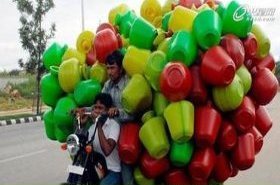 Random good picture Not show
1. The shortest
answer
is doing the thing.

2.
Answer
a fool according to his folly.

3. What is a man's first duty? The
answer
is brief ; to be himself.

4. A soft
answer
turneth away wrath.

5. A soft
answer
turns [turneth] away wrath.

6. I shall await your answer to my letter with eagerness.
7. The telephone rang. Catherine hesitated, debating whether to answer it.
8. Further information is required to determine the correct answer in any given instance.
9. The answer was an unequivocal 'no'.
10. Please answer questions in the space provided.
10. Sentencedict.com try its best to collect and create good sentences.
11. They have to worry out the answer to their difficulties.
12. His father rapped out an answer and then left the room.
13. She refused to answer questions about her personal finances.
14. He sought vainly for the answer.
15. She gave me a straightfor - ward answer.
16. The teacher couldn't answer the philosophical problem.
17. We received a negative answer to our request.
18. We sought long and hard but found no answer.
19. Her unwillingness to answer questions undermined the strength of her position.
20. Haig was desperately eager for an affirmative answer.
21. Ask a silly question and you'll get a silly
answer
.

22. A fool can ask more questions than seven wise men can
answer
.

23. A fool may ask more questions in an hour than a wise man can
answer
in seven years.

24. He rang the bell and waited for someone to answer the door.
25. We were not expecting Mr Levy to give us a clear or well-defined answer.
26. If you have any queries about your treatment, the doctor will answer them.
27. It's impossible for me to give you a definite answer.
28. How do you deal with persistent salesmen who won't take no for an answer?
29. The secretary has a large amount of mail to answer every day.
30. If you don't go after what you want, you'll never have it. If you don't ask, the answer is always no. If you don't step forward, you're always in the same place.
More similar words:
answer for,
sweep,
swell,
sweat,
swear,
as well,
fewer,
sweater,
tower,
power,
lower,
shower,
as well as,
may as well,
semisweet,
flower,
drawer,
viewer,
glower,
empower,
as it were,
tower over,
solar power,
jeans,
expanse,
mansion,
transit,
transfuse,
transfer,
transform.