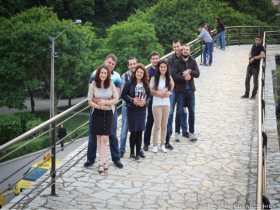 Random good picture Not show
1. Unprofitable eloquence is like the
cypress
, which is great and tall, but bears no fruit.

2. The character of the pine and cypress is shown in frigid winter ; the sincerity of one's friend is shown in adverse circumstances.
3. The towering pine and cypress trees defy frost and snow.
4. Last year, because it rained frequently during cypress season, pollen levels stayed relatively low.
5. The cypress was sacred to her; and all wild animals, but especially the deer.
6. Hot off the rumour mill: Cypress Semiconductor Corp is now seriously talking about Alpha.
7. Old cypress trees rose up in silent sentry this afternoon, and the entrance to the tomb looked shut.
8. There were chests of cypress and cedar, small tables bearing trays, silver cups, pewter tankards and flagons.
9. Cypress has no plans to develop future Sparc products but it will continue to handle distribution during the transition.
10. Cypress now plans to concentrate on static RAMs, programmable logic devices and its high-performance niche product lines.
11. There was a cypress with bougainvillea climbing up it, and beyond, a landscape of red hills.
12. After the marble covering was removed,[sentencedict.com] the original cypress casket was found in a good state of preservation.
13. Main Ingredients: tree essence, hamamelis, cypress, chamomile and aloe etc.
14. Title Taiwanan red and yellow cypress and their conservation.
15. Cypress ten thousand blue , this name, had become now already on Shanghai a resounding gold - lettered signboard.
16. Cypress and redwood are seldom used in the superstructure of commercial greenhouses.
17. Mastic and cypress essence oil give you a thorough relaxation, and rich bubbles pampers your skin.
18. The reflection of burnt orange foliage of bald cypress trees along the Frio River in Texas' Garner State Park caught my attention at sunup in November 2009.
19. Blend: - Powdered cypress wood, orris, and aloe - Cloves - Juice of red rose petals - Musk - Finish with ambergris .
20. The rays of the late sun slanted in streams through the cypress trees.
21. In its deepest recesses, Hellhole Bay and Warnbaw Swarrip, there were virgin stands of tupelo and bald cypress.
22. Tom Kitain to its freshly dug grave by a grove of olive and cypress trees.
23. On the walls are framed prints of herons and egrets in cypress swamps and watery glades.
24. It stands in a small square, now some five feet below the present ground level, surrounded by cypress trees.
25. From January to early May the biggest sources are evergreen trees such as juniper, cedar and cypress.
26. Behind him the minister stood as straight and shadowy as a cypress tree.
27. The largest of them is the Monastery of Kaisarani, which has a beautiful situation surrounded by cypress trees.
28. Situated on the eastern shore of the lake with a backdrop of terraced vineyards, olive groves and cypress trees.
29. The wood species included yellow cedar, red cedar, western hemlock, douglas fir, white oak, maple and Fokien cypress.
30. Bur The color comes from tannin that seeps from towering cypress Spanish moss.
More similar words:
press,
oppress,
repress,
depress,
impress,
press for,
compress,
suppress,
express,
pressure,
pressing,
suppressor,
oppressed,
compressor,
oppressor,
expressly,
depressed,
expressed,
depression,
oppression,
suppressant,
suppression,
impression,
oppressive,
expressive,
expression,
pressurize,
impressive,
compression,
pressurise.