Synonym:
falter,
haw,
hem,
hesitate,
stammer.
Similar words:
stuttering,
utter,
butter,
gutter,
mutter,
clutter,
butter up,
splutter.
Meaning: ['stʌtə(r)] n. a speech disorder involving hesitations and involuntary repetitions of certain sounds. v. speak haltingly.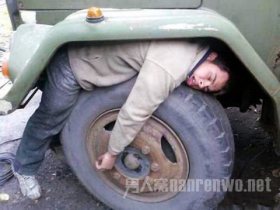 Random good picture Not show
1. He spoke with a pronounced stutter.
2. Then I heard the train stutter out of the staiton.
3. He spoke with a stutter, which got worse when he was angry.
4. I managed to stutter a reply.
5. Toni's developed a slight stutter over the last few months.
6. He tended to stutter, which tried her patience.
7. Despite a terrible stutter, he emerged as a gifted teacher.
8. A biology student with a stutter now occupied the back room.
9. That night I began to stutter.
10. You can't hear Ron's stutter when he sings.
11. He had a terrible stutter.
12. Ron Artest made George W . Bush stutter by just staring at him.
13. So both stammer and stutter evolved from the same Germanic language family.
14. And I do believe I will be a stutterer forever, even one day I could stutter no more.
15. He should support and assist anyone with a stutter or other disorder.
16. There were modest tintinnabulations, which seemed to stutter and tremble like a first avowal.
17. Some people who stutter repeat sounds.
18. I was trembling so hard,(sentencedict.com/stutter.html) I thought I would stutter when I spoke.
19. He saw Raymo heaving open the car door, a stutter motion, each segment leaving a blur behind.
20. I played a character in Birmingham with a limp and a stutter and they said I was overdoing it.
21. It was about this time that Rawls developed his stutter; he traces it back to his brothers' deaths.
22. Herman Katz was a thin, youngish man with nervous eyes and a slight stutter.
23. Now he raised his hand, but when Mason called on him Boris began to stutter.
24. Fu taught in primary schools, loon majestic, but the speech will be a nervous stutter.
25. Potential output is growing even as actual output and employment stutter.
26. King George VI—the father of Queen Elizabeth II—did, in fact, have a stutter, though its severity is a matter of debate.
27. But on this dusty June evening, I couldn't resist the sight of their stutter - stepping , head - shaking runs.
28. Suddenly the firing became louder than before and the stutter of added to the noise.
29. The pleasure starts with two magnificent performances: Colin Firth as King George VI, afflicted by a terrible stutter, and Geoffrey Rush as an unorthodox Australian speech therapist, Lionel Logue.
30. When someone asks me what business I am in I become embarrassed stutter and stammer.
More similar words:
stuttering,
utter,
butter,
gutter,
mutter,
clutter,
butter up,
splutter,
butterfly,
utterance,
buttermilk,
muttering,
unutterable,
bread and butter,
clarified butter,
pitter-patter,
astute,
letter,
litter,
tatter,
latter,
titter,
fetter,
patter,
hatter,
fitter,
matter,
better,
bitter,
jitter.