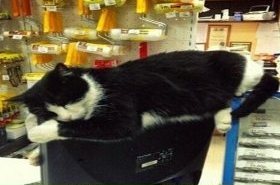 Random good picture Not show
1. These garden shears are lightweight and easy to use.
2. The shears aren't sharp enough to cut the grass.
3. She hacked at the hedge with the shears.
4. They use electric shears for sheep shearing.
4. Wish you can benefit from our online sentence dictionary and make progress every day!
5. Use shears with a long reach for cutting high hedges.
6. With a few quick snips of the shears he pruned the bush.
7. As Mr Mullen raised the shears above his head, Jimmy punched him in the face.
8. With shears from her basket, the Pysillian trimmed the wick, to steady it.
9. Cut along these lines using pinking shears. 4 Unfold and place the three strips on top of each other.
10. Atropos, with her shears, was feared more than the other two Fates.
11. She asked to borrow some shears.
12. The ice occasionally shears away as I put my weight on it.
13. These shears are not generally available to the public, so take this opportunity to acquire a pair now.
14. Edges are then maintained by clipping with shears or a special attachment on your mower.
15. Each bundle is then clipped with garden shears to give a clean cut.
16. Hand shears will give you the neatest finish, but on long hedges an electric trimmer saves time.
17. Powered by a power drill, knives, scissors, shears and rotary mower blades can also be sharpened.
18. He picked up a thick pair of cutting shears and trimmed a betel nut.
19. Cattle are raised for slaughter, sheep for the shears.
20. I find the best tool for the purpose is a pair of shears.
21. Sam was trimming the hedge with a pair of garden shears .
22. Trim the raw edges of the fabric with pinking shears.
23. Because it is ripstop, and fraying is therefore limited, pinking shears would only be decorative and not at all necessary.
24. And then Mr Blakey stood among his rose-beds with his shears dripping blood, and her head lay in the soil.
25. You will go through our comic, existential garden with your shears and you will never water the lupins.
26. These raised the nap on the cloth, which could then be cropped with shears to give it a smoother finish.
27. Also stems are not crushed as they usually are when using scissors or shears.
28. The other had contained a jemmy, cans of spray paint, wire cutters, a brace and bit, and shears.
29. Outside I can hear a sound which is also achingly familiar to me: some one is trimming the grass outside with shears.
30. This Katherine bites the heads off rag-dolls and threatens her sister Bianca with a pair of pinking shears.
More similar words:
hearse,
hearsay,
rehearse,
rehearsal,
years,
in tears,
crocodile tears,
hear,
shear,
heart,
heard,
hearty,
hear of,
at heart,
hearten,
by heart,
hear from,
headgear,
dishearten,
spearhead,
overheard,
lose heart,
heartening,
heartbroken,
heart and soul,
wholehearted,
state-of-the-art,
state of the art,
heartbreaking,
wholeheartedly.