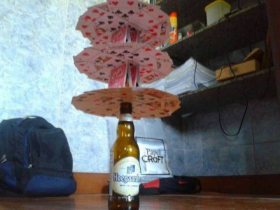 Random good picture Not show
1. Red jungle fowl, the ancestors of all our domestic chickens, sun themselves on the edge of the forest.
2. The red jungle fowl is the ancestor of the domestic chicken.
3. Red Jungle Fowl are the progenitors of the bewildering variety of domestic fowl.
4. SE Asian jungle fowl considered ancestral to domestic fowl.
5. Wild red jungle fowl, progenitors of the modern chicken, crowd a pen near Statesboro, Georgia.
6. And they're not exactly exotic jungle fowl. In fact, they're our more familiar feathered friends.
7. Domestic chickens are descended from jungle fowl of Southeast Asia.
7. Sentencedict.com is a sentence dictionary, on which you can find excellent sentences for a large number of words.
8. The present day chickens are larger and more productive than the ancestral Red Jungle Fowl with four basic types: 1) egg type, or Mediterranean; (2) game; (3) meat type; and (4) Bantam.
9. Most authorities have considered that the origins of the domestic chicken (Gallus domesticus) were the Red Jungle Fowl of Asia.
10. As humans push farther into the wild bird's South Asian habitat, the chickens they bring with them interbreed with jungle fowl, polluting their genomes.
11. There has been no sign of the tiger since then, not even the cackling of the silver- hackled jungle fowl that usually signals a tiger's approach.
More similar words:
jungle,
jungle law,
jungle gym,
concrete jungle,
jungly,
struggle for,
bungle,
bungler,
bungled,
single file,
in single file,
single figures,
fowl,
fowler,
right-angled triangle,
peafowl,
fowling,
wildfowl,
waterfowl,
guinea fowl,
domestic fowl,
jung,
jungian,
carl jung,
wholefood,
settle for,
double for,
file format,
file folder,
be liable for.