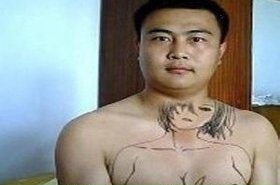 Random good picture Not show
1. Now he really was human - unscripted, jokey, even a bit passionate.
2. And unscripted exchanges are not his best format.
3. He made parliament come alive with unscripted reports of the heated debates during the Suez debacle.
4. The former Conservative prime minister's unscripted addition upset Mr Hague's aides.
5. the popularity of unscripted programming has had the unexpected effect of ennobling its scripted counterpart.
6. Of the many speeches that night, his talk, unscripted, simple, heartfelt, is the one that affected me the most.
7. I love these unscripted shows because they're different every time.
8. Unscripted dramas, such as Fox's break-away hit American Idol, cost less to develop than do comedies.
9. This included dramas, comedies, unscripted fare and newsmagazines.
10. But it was in unscripted moments, far more than any of Michael Deaver's made-for-television stagecraft, that Reagan showed his essential self.
11. Encounters between police and public are largely informal and unscripted.
12. The high point of his campaign came in three lengthy and unscripted television interviews with a sympathetic journalist.
13. All of the "You know how I know you're gay" insults were unscripted and in fact, a large portion of the film was improvised.
14. As the Obamas walked behind shrubbery and out of sight, the unscripted moment left reporters guessing where they were going.
15. R. Lee Ermey was actually a real drill sergeant and his part in this classic war film was largely unscripted.
16. Unlike the escapist movies that Rosenberg had seen at his father's cinemas, the grainy black-and-white images had the blunt force of unscripted narrative.
17. The only requirement is that two-thirds apply, and then begins the drama of an unscripted national convention to debate questions of fundamental law.
18. Dick Button, a two-time Olympic champion and longtime skating commentator, said the kiss-and-cry was made for unscripted moments like those.
19. For one thing, the punters at these meetings often have poignant and unscripted personal tales that explain their distrust of proposed reforms.
20. As the New York Times has noted, congressional visitors to Iraq almost never have unscripted meetings with average Iraqis whose political views aren't already known.
21. Question: If Jackie Chan and Jet Li had a no holds barred unscripted who would win?
22. Americans like debates because the candidates can be compared in an unscripted, live performance.
23. What at first was a trifling culinary request — another egg for the mixture — quickly became something more significant: an unscripted moment of trust between a father and daughter.
24. These days, the Chinese leadership operates through consensus. Prominent displays of individualism are risky, as are unscripted engagements with the foreign media.
24. Sentencedict.com is a online sentence dictionary, on which you can find nice sentences for a large number of words.
25. In order to better understand these findings and to test them out in real interactions, scientists intend to study unscripted, casual conversation.
26. After a few takes, a Chinese crew member inserted a mic inside my collar and told me to "say something" to the scientist when I picked up the book—one precious, unscripted, mumbled line.
More similar words:
scripted,
conscript,
transcript,
inscription,
conscription,
transcription,
script,
subscript,
prescript,
superscript,
scripture,
manuscript,
scriptural,
nondescript,
playscript,
postscript,
subscription,
description,
descriptive,
proscription,
prescriptive,
prescription,
descriptively,
job description,
prescriptivism,
nonprescription,
circumscription,
prescription drug,
sunscreen,
scrip.