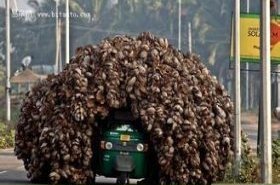 Random good picture Not show
1. I buy unbleached flour from the local health food store.
2. Unless you desire the whitest possible loaf, unbleached flour is processed less and certainly white enough for white bread.
3. We were in urgent need of unbleached white bristle to produce brush.
4. The content and retentivity of metal ions in unbleached KP AQ pulp of pinewood are studied.
5. The ground and top layer used unbleached wooden floor board, stone element also was implied in the bedplate of the pool that wash a face.
6. The unbleached kraft pulp was dealt with a high-shear fiber kneader, moreover, the pulp properties and paper strength properties were measured.
7. Programs to utilize unbleached fiber and post - consumer fiber in all paper products shall be implemented.
8. The effects of the unbleached pulp washing cleanliness on the consumption of chlorine are studied.
9. The results showed that the lignin in the unbleached pulp was mainly composed of syringyl lignin (S-lignin) and guaiacyl lignin (G-lignin).
10. A knitted , unbleached cotton fabric for underwear.
11. Try your natural foods market and, if it does not have unbleached high-gluten flour, ask for hard spring wheat flour.
12. There is a great deal of controversy over the merits of bleached and unbleached flour.
13. Non-coniferous chemical wood pulp, sulphite, other than dissolving grades, unbleached.
14. Coniferous chemical wood pulp, sulphite other than dissolving grades, unbleached.
14. Sentencedict.com try its best to collect and make good sentences.
15. Her mother asks her to buy two chi of unbleached cloth.
16. IR analysis shows that the crystallinity index of the bleached pulp is lower than that of unbleached pulp.
17. Method Comparing the base resource identification with the different making methods of the unbleached specimen.
More similar words:
bleached,
bleacher,
bleachers,
unblemished,
beached,
unreached,
bleach,
bleaching,
bleaching agent,
leach,
teacher,
preacher,
leachate,
leaching,
treachery,
poached,
attached,
broached,
detached,
head teacher,
teacher's day,
teacher's pet,
treacherous,
beach erosion,
music teacher,
poached egg,
unattached,
schoolteacher,
treacherously,
teachable.