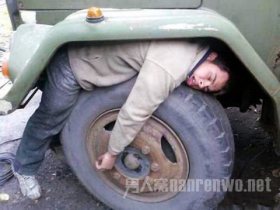 Random good picture Not show
1 He was jokingly called old fox by his partner.
2 She jokingly replied," I'm here to meet a rich husband,get married,have a couple of children,and then retire and travel.
3 Sarah jokingly called her "my monster".
4 I said it half jokingly.
5 Second example: Several years ago Johnny Carson jokingly predicted a toilet paper shortage.
6 When he jokingly referred to the story that he was descended from the Devil he meant no disrespect to his ancestor Woden.
7 Father jokingly said: Oh! Who did you have in mind?
8 "It was quick and crazy," laughs Spader, who jokingly calls his own aversion to technology "some sort of deficiency".
9 At 78, Viacom chairman Sumner Redstone jokingly claims to be 53.
10 I asked him jokingly whether he thought he could drive the Calcutta - Peshawar express.
11 The person that calls even security personnel jokingly this domestic company is bedlamite.
12 Changing her mind is often jokingly called a women's prerogative.
13 The academy's commandant, General Andrew Ritchie ,[www.Sentencedict.com] jokingly warned of tough times ahead.
14 He turned to his publicist and jokingly asked, "What's next?"
15 Shanghai men are jokingly called henpecked husbands.
16 Soupy jokingly asked children watching the show to find where their parents kept their money.
17 It was said jokingly almost, in her grim, Italian, old crone fashion.
18 After that, my father jokingly called her his little grease monkey.
19 These days they may be used jokingly but the idea behind them runs along the same lines as the greeting "ciao."
20 The academy commandant, General Andrew Ritchie, jokingly warned of tough times ahead.
21 When he saw Xiangzi come in , he said half - crossly , half - jokingly,'still alive and kicking, eh?
22 Months later, after Nixon had resigned in disgrace, humor columnist Art Buchwald jokingly give Graham a small bronze wringer .
23 " A short , shaven - headed youngster said jokingly into the silence.
24 Outside the lab, Ivins's neighbors, friends and pastor say, he played the piano every Sunday at what he jokingly called "the hippie Mass" in the school hall at St. John the Evangelist.
25 " I know a few good - looking broads, " Johnny said jokingly.
More similar words:
joking,
smoking,
seemingly,
wittingly,
willingly,
cooking oil,
smoking gun,
unknowingly,
grudgingly,
increasingly,
accordingly,
unwittingly,
unceasingly,
imploringly,
exceedingly,
looking glass,
surprisingly,
reassuringly,
unrelentingly,
advance booking,
correspondingly,
parking lot,
look in,
okinawa,
look into,
sinking feeling,
mingle,
single,
king,
singles.