Synonym:
assume,
choose,
reject.
Similar words:
adoption,
opt,
AND operation,
option,
optimistic,
helicopter,
head on,
a load of.
Meaning: [ə'dɒpt] v. 1. choose and follow; as of theories, ideas, policies, strategies or plans 2. take up and practice as one's own 3. take on titles, offices, duties, responsibilities 4. take on a certain form, attribute, or aspect 5. take into one's family 6. put into dramatic form 7. take up the cause, ideology, practice, method, of someone and use it as one's own.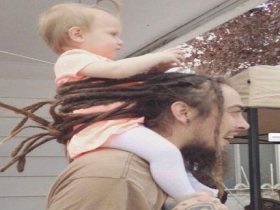 Random good picture Not show
1. We urge you to adopt all necessary measures to guarantee people's safety.
2. We couldn't adopt a child, so we decided to foster.
3. Perhaps you should adopt a more conciliatory approach.
4. The national assembly has voted to adopt the budget.
5. I have decided to adopt a child.
6. We may keep an orphan or adopt it out.
7. She tends to adopt a falsely cheerful tone when she's upset about something.
8. Many childless couples adopt children.
9. She is hoping to adopt Australian nationality.
10. I think it's time to adopt a different strategy in my dealings with him.
11. Employers are being encouraged to adopt family-friendly measures like flexible hours.
12. Clive decided to adopt a neutral position.
13. There is little or no incentive to adopt such measures.
14. He tends to adopt a defensive posture towards new ideas.
15. He tends to adopt a condescending manner when talking to young women.
16. We will adopt their suggestions in mass.
17. We want them to adopt a healthier lifestyle.
18. We need to adopt a more pragmatic approach.
19. The party must adopt more inclusive strategies and a broader vision.
20. I move that we adopt the agenda as It'stands.
21. There are hundreds of people desperate to adopt a child.
22. The conference agreed to adopt a set of compromise proposals.
23. They adopt behaviour that is more socially acceptable among their peers.
24. The laws of Nature, that is to say the laws of God, plainly made every human being a law unto himself, we must steadfastly refuse to obey those laws, and we must as steadfastly stand by the conventions which ignore them, since the statutes furnish us peace, fairly good government and stability, and therefore are better for us than the laws of God,[sentence dictionary] which would soon plunge us into confusion and disorder and anarchy if we should
adopt
them.

25. Having no children of their own they decided to adopt an orphan.
26. He has thought the suggestion over and decided not to adopt it.
27. It was a most fruitful discussion, with both sides agreeing to adopt a common policy.
28. If I had known how he felt, I would never have let him adopt those children.
29. The union said it was unfair to ask workers to adopt a policy of wage restraint.
30. This is not meant to delimit what approaches social researchers can adopt.
More similar words:
adoption,
opt,
AND operation,
option,
optimistic,
helicopter,
head on,
a load of,
ahead of,
spread out,
instead of,
head office,
adolescent,
ambassador,
ahead of time,
incommunicado,
ahead of schedule.