Synonym:
cease,
depart,
desert,
discard,
discontinue,
evacuate,
forsake,
leave,
quit,
relinquish,
surrender,
withdraw.
Antonym:
conserve,
maintain,
retain.
Similar words:
hand on,
off and on,
a bad egg,
have a ball,
database,
ban,
band,
urban.
Meaning: [ə'bændən] n. 1. the trait of lacking restraint or control; reckless freedom from inhibition or worry 2. a feeling of extreme emotional intensity. v. 1. forsake, leave behind 2. stop maintaining or insisting on; of ideas or claims 3. give up with the intent of never claiming again 4. leave behind empty; move out of 5. leave someone who needs or counts on you; leave in the lurch.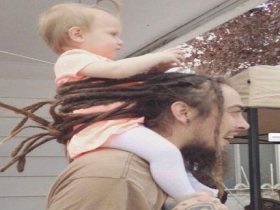 Random good picture Not show
1. There was a general air of festivity and abandon.
2. The captain gave the order to abandon ship.
3. People often simply abandon their pets when they go abroad.
4. No need to abandon their own people more than tears desperate not born.
5. I was obliged to abandon that idea.
6. The pair have often been known to abandon their script and begin ad libbing.
7. We had to abandon the car.
8. Each side declared that it would never abandon its principle.
9. Dreams don't abandon a painstaking pursuit of the people, as long as you never stop pursuing, you will bathe in the brilliance of the dream.
10. One should give up anger; one should abandon pride; one should overcome all fetters. I'll never befall him who clings not to mind and body and is passionless.
11. Time will abandon those funny oath, until we also agree.
12. I threw you abandon me regardless.
13. We decided to abandon the first draft of the report and start over.
14. How could she abandon her own child?
15. After careful deliberation, it was agreed to abandon the project.
16. Don't abandon yourself to pleasures.
17. We should not yet abandon this option for the disposal of highly radioactive waste.
18. Rescuers were forced to abandon their search .
19. They had to abandon their attempt to climb the mountain.
20. Snow forced many drivers to abandon their vehicles.
21. Their decision to abandon the trip was made because of financial constraints.
22. He played with an abandon that was strangely absent from his performance last week.
23. Good love makes you see the whole world from one person while bad love makes you abandon the whole world for one person.
23. Sentencedict.com is a online sentence dictionary, on which you can find good sentences for a large number of words.
24. He went through with his plan although all his friends advised him to abandon it.
25. If you love a girl, it's better to fight for her happiness than to abandon her for the sake of her happiness.
26. When the mood is fallen, only thought is to abandon all.
27. Good love makes u see the whole world from one person while bad love makes u abandon the whole world for one person.
28. I love you, the ends of the earth, to does not abandon!
29. She argued with such vehemence against the proposal that they decided to abandon it.
30. We were sinking fast, and the captain gave the order to abandon ship.