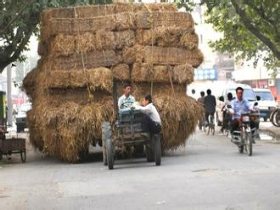 Random good picture Not show
1. Driving out of Bridgetown in congested traffic, she prayed she would get back to Crystal Springs before the storm broke.
2. Bridgetown is the capital and the largest city.
3. Bridgetown is a major port destination for both commercial and cruise ships serving the eastern Caribbean—several ships are visible within Carlisle Bay.
4. Bridgetown is the capital city of the island nation Barbados, located to the east of the Lesser Antilles Island chain.
5. Besides being the seat of government, Bridgetown is the largest city in Barbados.
6. BRIDGETOWN, Barbados (Reuters Life!) - Barbados is a serene Caribbean island that lures visitors with its aqua waters, friendly people and fine dining.
7. Dawn broke as the field passed through a shuttered Bridgetown(sentencedict.com), and I began to pass through the field.
8. She walked briskly through the teeming streets and alleyways which lay behind the main thoroughfares of Bridgetown.
9. His sugar plantation brought him reasonable wealth, and he found himself among the best society of Bridgetown on the island of Barbados .
10. It and the surrounding towns that make up the Greater Bridgetown area are located along the southwestern coastline of the island.
11. He found his band from the taverns and grogshops of Bridgetown , and ended up signing on about seventy destitute seamen.
More similar words:
bridget,
bridge,
bridges,
abridge,
oxbridge,
abridged,
cambridge,
rope bridge,
footbridge,
bridge over,
bridge deck,
bridgehead,
toll bridge,
overbridge,
unabridged,
bridgework,
drawbridge,
weighbridge,
truss bridge,
abridgement,
pontoon bridge,
bridge player,
unbridgeable,
covered bridge,
bridge circuit,
brooklyn bridge,
floating bridge,
cantilever bridge,
golden gate bridge,
bridge financing.