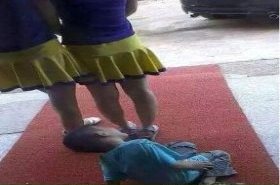 Random good picture Not show
1. Worrying never did
anyone
any good.

2. Hard work never did
anyone
any harm.

3. Anyone returning the necklace will be handsomely rewarded.
4. He never exerts himself to help anyone.
5. It was patent to anyone that she disliked the idea.
6. Anyone over eighteen years of age counts as adult.
7. Is there anyone who hasn't suffered for the secret love? We alwaysthink that love is very heavy, heavy and could be the heaviest thing inthe world. But one day, when you look back, you suddenly realize thatit's always light, light. We all thought love was very deep, but infact it's very thin. The deepest and heaviest love must grow up withthe time.
8. 'Promise not to tell anyone!' 'I promise.'
9. With that cynical outlook, he doesn't trust anyone.
10. This diet is suited to anyone who wants to lose weight fast.
11. If anyone needs proof of Andrew Davies' genius as a writer, this novel is it.
12. He hates anyone parking in his space.
13. Bad luck may befall to anyone at any time.
14. Anyone who knows of the vehicle's whereabouts from that date until 7 March is asked to contact Bangor police station.
15. I am wondering if anyone would be glad to dine out with me?
16. Police are urging anyone who saw the accident to contact them immediately.
17. I forbid anyone to touch that clock.
18. Richard has the biggest ego of anyone I've ever met.
19. The villagers were very hospitable to/towards anyone who passed through.
20. I've never seen anyone spend so much in one evening; he must have money to burn!
21. I despise anyone who is cruel to animals.
22. His success can't be cried down by anyone.
23. The liar's punishment is not in the least that he is not believed, but that he cannot believe
anyone
else.

24. People should not hesitate to contact the police if they've noticed anyone acting suspiciously.
24. Sentencedict.com is a online sentence dictionary, on which you can find nice sentences for a large number of words.
25. It is an offence to sell intoxicating liquor to anyone under the age of 18.
26. I am in a rather unique position, as my job is different from anyone else's.
27. I trust the people who teach me not to trust anyone.
28. Nobody can go back and start a new beginning, but anyone can start today and make a new ending.
29. That man has such an enormous ego - I've never known anyone so full of themselves!
30. The kernel of that message was that peace must not be a source of advantage or disad-vantage for anyone.
More similar words:
try on,
beyond,
bayonet,
rely on,
crayon,
sayonara,
carry on,
everyone,
mayonnaise,
beyond question,
beyond control.