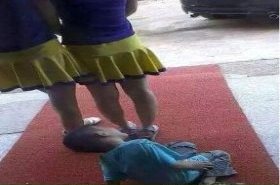 Random good picture Not show
1. He's taken the car out on a test run.
2. The generator failed three times during its test run.
3. This short crossing would be a test run.
4. Switch off[http://Sentencedict.com], disconnect and cover A test run is important.
5. The visiting locomotives will progressively arrive during the Steam Festival and after a test run will be used on weekend passenger services.
6. The cameras were in court for a test run, not for broadcasting.
7. Test running, and making final adjustments to the newly installed hank scouring machine is Duncan Dawson.
8. Burfoot took a pair of Puma Concepts for a test run and said he liked them.
9. Overhead wiring will get under way early this year, with test running to start in the autumn.
10. The verdict: I need more test runs on Legend.
11. If the application under test runs only under a specific controlled environment, you do not need to establish different configurations.
12. An example would be if two users start test runs and also request code coverage data from the same assembly at the same time.
13. Then, in subsequent test runs, a human tester will not need to look at the text equivalent again unless the image or the text has changed since the last test run.
14. Each test runs for 60 minutes after all of the users are in the system.
15. The tool also supports data gathering of test runs and creates reports from that data -- this data provides feedback to the development team.
16. And he desperately wants to overtake Hadlee before Border establishes a new record for Test runs.
17. This example uses the response time breakdown option, which is selected under the schedule, to collect statistics on a captured page element when the test runs.
18. DbUnit is a JUnit extension that places your database into a known state between test runs.
19. Installations in the area of beer and beverage bottle filling are still in various test runs.
20. When discharges are detected, the counter or preset counter is incremented or decremented respectively - a particularly useful feature for long test runs.
21. The following subsections shown in Table 8 describe specific simulated user workload scenarios used in the benchmark test runs.
22. You can enter custom start and stop times to filter out data from the ramp-up or ramp-down phases of test runs.
23. The main performance bottleneck is the application server machine for various test runs with varying amounts of load.
24. Success with code stability, and therefore ability to do longevity test runs, resulted in the addition of memory leak analysis at the completion of an iteration starting with the third.
25. Recommendation: We suggest using at least one dedicated machine for production-time test runs.
26. The test duration was one hour for each of these test runs.
27. This provides project teams with traceability so that when issues are found during test runs, defects can be entered and tracked back up to the originating requirements.
28. Download DbUnit: Puts your database into a known state between test runs.
29. DbUnit: A JUnit extension (usable with Ant) that puts a database into a known state between test runs.
30. DbUnit is a JUnit extension that facilitates placing a database into a known state between test runs.
More similar words:
test run,
unstrung,
destructive testing,
intestinal obstruction,
strung,
strung-out,
hamstrung,
high-strung,
running test,
unstructured,
highly strung,
estrus,
test room,
oestrus,
test range,
destruct,
byte stream,
stress test,
awe-struck,
sequestrum,
awestruck,
destructor,
destruction,
restructure,
destructive,
acid-test ratio,
destructible,
self-destruct,
restructuring,
nondestructive.