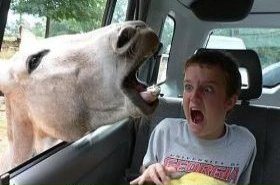 Random good picture Not show
1. The short code would then be decompressed just before display to produce the appropriate number of blue pixels to represent the sky.
2. Short code sharp and vigorous .
3. Having a unique short code can be beneficial for branding, such as the Red Cross's 90999 code, but these are more costly.
4. Note: The three preceding short code examples normally appear as single lines.
5. The short code block in Listing 22 demonstrates how you can display a message to the console upon any adding, deleting, or changing a record in the RMS.
6. It operates through a series of short code commands that you can text to Kadoink, in order to send or receive information.
7. The campaign put its SMS "short code" on T-shirts, online ads and rally placards.
8. The short code may be leased for a specified period of time so that the short code can be reassigned after expiration of the lease.
9. It's not as simple as calling one of America's big four carriers and setting up a short code.
10. In the weeks after the tragedy, text messages to the dedicated Haiti emergency short code 4636 increased about 10 percent each day – with about one text a second coming through.
11. Erik Hersman shared a post this morning with some of the success stories from their "4636, " an emergency short code.
12. As you pass the fields,[sentencedict.com/short code.html] you see signs the farmers have posted telling in short code what sort of seed they have planted.
13. Rails 2.2 Release Notes - A very solid set of release notes for 2.2 with basic coverage of the new features (with short code examples and links) as well as a list of deprecated features.
14. Sewing process is no longer a pinhole and slit short code after the phenomenon of more energy efficient than similar models and environmental protection.
15. I also reviewed how to consume Web services, the JAX-RPC subset API, with a short code example included.
16. During the recent fundraising drive to support Haiti, you may have responded to the Red Cross call to text funds using the "90999" SMS short code.
17. The marital status itself is part of the core business data, but it is stored there only as a short code.
More similar words:
shortcoming,
short-covering,
shortcut,
shortcake,
a short cut,
short cycle,
shortcut key,
shortchange,
short-change,
short channel,
short-circuit,
short circuit,
short cutting,
shortcut menu,
keyboard shortcuts,
sport coat,
out code,
postcode,
edit code,
post code,
secret code,
import control,
export control,
object code,
transport company,
product code,
redundant code,
transport control,
short,
shorty.