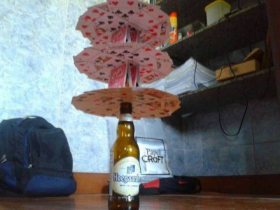 Random good picture Not show
1. He plans to hitch right round the coast of Ireland.
2. The needle on the dial went right round to fifty feet, which was as far as it could go, and there it stuck.
3. The queue went right round the block.
4. A verandah ran right round the house.
5. We had started off in grand style, rattling right round the station plaza with a great tooting of horns.
6. Nearly every fortnight we sail right round the island, visiting the west coast caves and picnicking under great cliffs.
7. They used to have big chains right round, fore and aft to keep them together.
8. To hitch hike right round the coast of Ireland and to write a book about his experiences.
9. Elliott: You need a long piece to go right round him.
9. Sentencedict.com is a online sentence dictionary, on which you can find good sentences for a large number of words.
10. One eye shifts right round the body so that it takes up a position alongside the other.
11. Drake sailed right round the world and came back to taiwan.
12. The old town on the hill had a wall right round it.
13. I did two tours all the way round to the Gulf and right round to Aden which was very pleasant.
14. To see who got inside, I would have had to turn myself right round.
15. Oh yes. Just go out of the hotel turn right round the first corner.
16. She's a real cheeky little thing, and can wrap me right round her little finger.
17. The old town on the hill have a wall right round it.
More similar words:
flight route,
bright-red,
tightrope,
tightrope walker,
tightrope walking,
get round,
high ground,
round and round,
brightness control,
ground control,
light ray,
light red,
sight-read,
sightread,
flight risk,
freight rate,
sightreader,
high treason,
freight rates,
through traffic,
light reaction,
drought-resistant,
underground,
lounge around,
right,
underground cable,
rights,
aright,
bright,
wright.