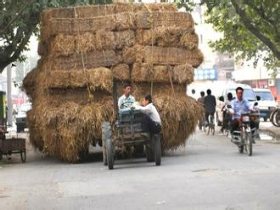 Random good picture Not show
(1) Lack of factor VIII causes classic hemophilia; other types are caused by deficiency of factor IX or XI.
(2) Expensive clotting factor VIII, each several hundred dollars or even a thousand dollars, but the extraordinarily high prices is a secondary issue, the most important is that money will not buy drugs.
(3) The drug is a recombinant protein, called Factor VIII , which is necessary to help blood clot.
(4) The endothelial cells are immunoreactive for CD 34 and Factor VIII related antigen.
(5) Massie got infected with HIV way back in 1978 – several years before AIDS was recognized — from the constant injections of Factor VIII clotting factor he needed to treat his hemophilia.
(6) Of Henan Province, for example[Sentencedict.com ], the current supply of clotting factor VIII can only meet 40% of hemophilia in the province's needs.
(7) These anti-coagulants are made in the liver and consequently Factor VIII and Von Willebrand factor will go up which are made in the endothelium.
(8) Objective:To improve the skills of diagnosing severe hemophilia A(HA)and the carriers of the disease by detection of coagulation factor VIII(FVIII)gene inversion.
(9) However, the recombinant-clotting factor has the same medical effect as plasma-derived factor VIII. It is widely used to treat hemophiliacs in China.
(10) January 1984 - First patient in clinical evaluation for SNBTS pasteurised factor VIII suffers adverse reaction and the trial is abandoned.
More similar words:
activity factor,
factor,
factory,
factor in,
co-factor,
factor out,
cofactor,
at factory,
factorial,
form factor,
ex factory,
olfactory,
factoring,
factor set,
malefactor,
load factor,
factor cost,
car factory,
loss factor,
factory hand,
benefactor,
fill factor,
gain factor,
factory farm,
common factor,
price factor,
prime factor,
noise factor,
factor price,
factory girl.