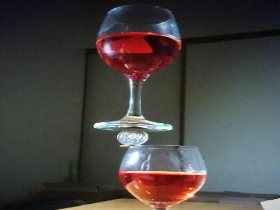 Random good picture Not show
1. The term "claret", used to describe Bordeaux wines, may come from the French word "clairet".
2. It was the beginning of a passion for Bordeaux wines and a key experience that shaped his adult life.
3. Scotch whisky, French brandy, Bordeaux wine...
4. The British love the Bordeaux wine very much.
5. And Bordeaux wine is excellently positioned there!
6. Americans boycotted brie cheese and Bordeaux wine.
7. Raphael Bordeaux wine company has a lot of factories in Fort Medoc sub-producing areas. As early as the eighteenth century it became Louis XIV's court's favourite.
8. A classic Bordeaux wine from one of the best vintages in recent years. The wine displays balanced aromas of chocolate, blueberry and cedar. A wonderful wine and a great match for beef dishes.
9. The southwestern city of Bordeaux wine has a long history, its world famous wine.
10. A classic Bordeaux wine, dark colour with a nose of dark fruit and berries.
11. A classic Bordeaux wine from one of the best vintages in recent year. The wine Displays balanced aroma of chocolate, blueberry and cedar. A wonderful wine that will match beef dishes.
12. Taste notes : Excellent Bordeaux wine with great dense and tight fruit on the nose, an enticing and complex depth, spicy and full of exotic character.
13. China's thirst for Bordeaux wine is extending to the region's vineyards.
14. A great Bordeaux wine.
15. Georges Haushalter from the Bordeaux Wine Merchants Association says it's all about supply and demand.
15. Sentencedict.com is a sentence dictionary, on which you can find excellent sentences for a large number of words.
16. Moulin rouge in bordeaux wine in the region, and the quality of latitude and moulin rouge nightclub in Paris, the famous soaring.
17. Strong fruity, refreash and accompanied by roast beef, lamb, chicken, cheese, an award winning in a large-scale Bordeaux wine festival in 2008.
18. A soft fruity wine displaying typical balance of a Bordeaux wine.
19. Prices straight from the producer have already reached 1,000 euros ($1,282) per bottle for exceptionally fine wines, according to the Bordeaux Wine and Spirit Brokers Association.
20. Every spring a group of investors, wholesalers and wine critics descend on a few established Bordeaux wine producers to taste the fermented grape juice.
More similar words:
bordeaux,
borderline,
border,
ordeal,
suborder,
bordello,
bordered,
job order,
border on,
bordering,
borderland,
for dear life,
cross-border,
life-or-death,
border patrol,
border collie,
trial by ordeal,
beaux,
bureaux,
chateaux,
beaux arts,
orderliness,
disorderliness,
order of business,
word order,
bandeau,
beau ideal,
outside audit,
fair deal,
twinborn.