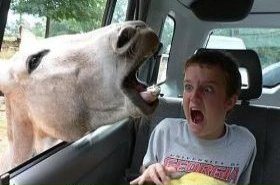 Random good picture Not show
1. The kids need to sow a few wild oats.
2. He wants to leave home, sow his wild oats and learn about life.
3. He sowed all his wild oats before he married.
4. The problem is that he never sowed his wild oats before he got married, and he wants to sow them now.
5. Some sowing of wild oats is approved of, indeed positively welcomed in certain circles and settings.
6. He's sown all his wild oats.
7. Sons sow wild oats and daughters risk being ruined.
8. Wild sarsaparilla, wild oats, Solomon's seal and a host of understory plants die off; grass-like species such as Pennsylvania sedge take over.
9. He is sowing his wild oats now but he will settle down once he is married.
10. These included fierce criticisms of a competitor, Wild Oats, which Whole Foods later bought.
11. The students sowed their wild oats before leaving university to become doctors.
12. I sowed wild oats myself when I was your age.
13. When Doodly was young wild oats here and there and never took life seriously.
14. Don't you have a lot of wild oats to sow?
15. The young will sow their wild oats.
16. Whilst your brother sows his wild oats in the South of France with his floozy ?sentencedict.com/wild oats.html
17. Many people sow their wild oats in their youth.
18. Plus you can bump into some of the nation's best writers in the refrigerated section of Wild Oats.
19. If you want to get a sure crop, and a big yield, sow wild oats.
20. But their still fell in love, moreover he well - behaved, ever did not wild oats.
21. Judging from his appearance, Mr. B has been sowing his wild oats.
22. Instead, they seem to have been used to store wild barley and wild oats.
More similar words:
rolled oats,
wild ox,
wild goat,
wildcat strike,
oats,
dildo,
groats,
boil down,
build on,
nail down,
wild,
evildoer,
goatskin,
boil down to,
evildoing,
boatswain,
wilder,
wildly,
wilding,
wildcat,
wild dog,
run wild,
wild man,
wild west,
wild boar,
wild-eyed,
wildness,
bewilder,
semi-wild,
wild rice.