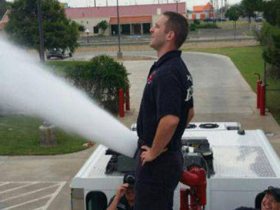 Random good picture Not show
1) First came the turbojet, now obsolete, then the turboprop, which is still found onboard small planes.
2) The Beech 1900, a twin-engine turboprop seating 19, is among the smaller commuter aircraft in regular service.
3) The turboprop has also undergone a maturing process that now makes it an easy engine to work on and spectacularly reliable.
4) All my fellow passengers in the turboprop are asleep.
5) The Embraer 120 turboprop is equipped with twin propellers designed to spin at a constant speed.
6) Also has the oar engine, is the turboprop helicopter uses the turboshaft engine generally.
7) Buys and sells corporate jet and turboprop aircraft worldwide.
8) The turboprop engine is very much like the turbojet. It has an additional part, a propeller.
9) The single engine turboprop nose - dived into a cemetery 500 feet from its destination.
10) The turbojet and the turboprop are much more satisfactory for airplanes.
11) The turboprop engine is very much like the turbojet.
12) And, oh yes,(http://sentencedict.com/turboprop.html) is it a jet or a turboprop?
13) For the second year, Shelton's' Cat sported a new composite proboscis from a P-3 Orion turboprop.
14) Today's killer drone is a slow - flying, easy - to - spot turboprop plane that drops relatively - crude munitions on its targets.
15) Altitude simulation test must be completed during the research and development of turboshafts according to the general specification for turboshaft and turboprop.
16) Heymsfield and colleagues flew smack-dab into the hole-punch discovery after having conducted a cloud study from a heavily instrumented turboprop plane near Denver International Airport in 2007.
17) Corporation aims to achieve a new boat the family seriation, occupation turboprop airliner Extension high - end market.
More similar words:
turbo,
turbot,
turbofan,
turbojet,
turbocharger,
turbogenerator,
propriety,
isopropyl,
proprietor,
proprieties,
expropriate,
impropriety,
appropriate,
impropriate,
proprietary,
crop rotation,
proprietress,
appropriated,
cyclopropane,
expropriated,
inappropriate,
expropriation,
proprietorial,
appropriative,
appropriation,
appropriately,
proprioception,
misappropriate,
proprioceptive,
proprietorship.