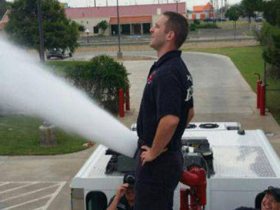 Random good picture Not show
1. 'I was right,' he said triumphantly.
2. 'I've got a job,' she announced triumphantly.
3. The lion was roaring triumphantly.
4. He emerged, triumphantly holding a baby aloft.
5. The trial pilot is heading triumphantly for home.
6. They marched triumphantly into the capital.
7. "She'salive!" he shouted triumphantly.
8. Robert was looking at me triumphantly.
9. But I have never witnessed anything so triumphantly awful as Notre Dame, Fourviere.
10. Triumphantly he promised four breeding pairs from his own small collection to the Trust.
11. The shrill blast of their brazen trumpets echoed triumphantly through the heart of the land.
11. Sentencedict.com try its best to collect and make good sentences.
12. ''Aha'!', he exclaimed triumphantly. ''We knew you'd come''.
13. The departure came just hours before Clinton triumphantly addressed the convention delegates, who unanimously nominated him for re-election Wednesday night.
14. Don't always rely on the bridges marked triumphantly on your map.
15. Neill triumphantly flies in the face of a long line of buffoon kings on film.
16. Bob triumphantly announced his promotion.
17. "I thought so," Evelina said triumphantly.
18. On october 1,1943 , his forces triumphantly entered that city.
19. But the memory of him holding the Jules Rimet trophy triumphantly aloft is etched on the memories of millions.
20. The crowd hoisted him onto their shoulders and carried him triumphantly down the main street.
21. Thus are the racial issues of education and class triumphantly resolved.
22. Mrs Thatcher's gamble, which might have caused a huge crisis and the fall of the government, came off triumphantly.
23. The sinking stomach pains which heralded this loss were always welcome to me, and afterwards I would feel triumphantly clean.
24. He saw himself proudly standing in that wondrous car, his hands triumphantly guiding those steeds which Jove himself could not master.
25. She then places her hand in his and with his help gradually rises on to pointe until she poses triumphantly in attitude.
26. A Klaxon sounded from the Regatta and we were soon triumphantly on our way home again.
27. A tea-bag, a spoon of Marvel milk-powder, and the green plastic mug was steaming triumphantly by my side.
28. She bounded to her feet and waved her right hand triumphantly.
29. Reassuringly, my dog appears to share my veridical view of reality: she chases the ball and triumphantly catches it between her jaws.
30. In the afternoon, a tap outside the slum is suddenly turned on, and Chaya, smiling triumphantly, hauls back a full, ten-gallon jug on top of her head.
More similar words:
triumph,
elephant,
gallantly,
elephantine,
instantly,
incessantly,
constantly,
elephantiasis,
nonchalantly,
indignantly,
importantly,
malignantly,
reluctantly,
exorbitantly,
significantly,
emphasis,
emphasize,
emphatic,
aquarium,
delirium,
terrarium,
opprobrium,
auditorium,
planetarium,
equilibrium,
lymphatic system,
orphan,
epiphany,
gently,
silently.