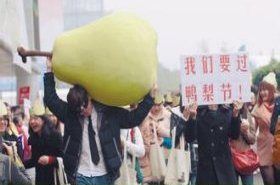 Random good picture Not show
1. They are not only the world's biggest fast-food chain, but also the industry's trendsetter.
2. These trendsetters have a critical social role to play.
3. And trendsetters will almost certainly be talking about this week's U2 concert and the latest single from local band, Therapy.
4. But remember, she's a trendsetter.sentencedict.com
5. He is a genuine trend-setter and a upbeat team leader.
6. Although Harvard is often a trend-setter , it is not clear that many other schools can afford to follow.
7. A trend-setter on and off court, maria will share the latest and hottest fashion, beauty and wellness and health and fitness tips with readers.
8. GREEN T. HOUSE is the vision of glamorous musician, tea connoisseur and trend-setter JinR.
9. In history, no successful artist was not provided with a good command of skills, unique personality and the trend-setter attitude.
10. Once considered the strongest Orc player in the world, Zacard, in his time, was a trend-setter among his peers.
11. The biannual Beijing housing fair is often considered a trend-setter for the real estate industry's performance in China.
12. Sometimes, we cannot but feel that those who show defiance of law may become a future trend-setter.
13. It must show it can still deliver enough of the cutting-edge features that have made the company a trend-setter.
14. He wished the successful passage of Pizhou national acceptance, in the tourism industry trend-setter in Subei.
15. The eastern Chinese city of Wenzhou produces more cigarette lighters and spectacles than anywhere on earth, and has long been seen as an economic trend-setter for the entire country.
More similar words:
trendsetter,
trendsetting,
set the trend,
market trends,
setter,
typesetter,
pacesetter,
irish setter,
handset,
mind-set,
mindset,
bitter end,
to the bitter end,
letter of reference,
letter of recommendation,
settee,
rosette,
get the better of,
cassette,
noisette,
anisette,
chemisette,
trend,
trendy,
cassette tape,
uptrend,
audiocassette,
videocassette,
audio cassette,
downtrend.