Synonym:
hike,
hobo,
march,
parade,
vagabond,
vagrant.
Similar words:
trample,
trampoline,
ramp,
cramp,
rampage,
rampant,
cramped,
run rampant.
Meaning: [træmp] n. 1. a disreputable vagrant 2. a person who engages freely in promiscuous sex 3. a foot traveler; someone who goes on an extended walk (for pleasure) 4. a heavy footfall 5. a commercial steamer for hire; one having no regular schedule 6. a long walk usually for exercise or pleasure. v. 1. travel on foot, especially on a walking expedition 2. walk heavily and firmly, as when weary, or through mud 3. cross on foot 4. move about aimlessly or without any destination, often in search of food or employment.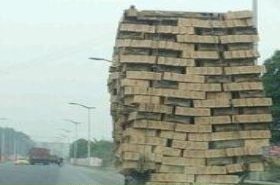 Random good picture Not show
(1) The tramp was arraigned on a charge of stealing.
(2) The tramp frightened her by talking to her.
(3) The tramp carried his belongings in a pack on his back.
(4) The old tramp shambled up to me.
(5) The tramp was found lying on the floor face downwards.
(6) The old tramp shambled wearily up the path.
(7) A tramp came to the door and asked for food.
(8) The tramp produced a stump of candle from his deep pockets.
(9) The tramp told a cock and bull story about finding the money hidden in a bottle behind a tree in the park.
(10) It's a fishy story that a tramp deposited quite a lot of money in the bank yesterday.
(11) He's a tramp and used to living rough.
(12) Chaplin was at his best playing the little tramp.
(13) The tramp always keeps his eyes peeled for coins lying on the ground.
(14) We had a long tramp home.
(15) He planned to tramp the whole country.
(16) The young tramp cast him a wary glance.
(17) He heard the slow[Sentence dictionary][Sentencedict.com], heavy tramp of feet on the stairs.
(18) The streets echoed with the tramp of soldiers' feet.
(19) I heard the tramp of the marching soldiers.
(20) She wants to go for a tramp in the country.
(21) The girls went for a tramp through the countryside.
(22) Yes B: Nude tramp carrying wicker basket 5 V: More information on the hover mower.
(23) The tramp had fallen forward on to his face, his body twitching madly, blood spreading out around his head.
(24) The tramp tossed the empty cup away and shuffled off in the other direction.
(25) An old tramp was sleeping under Waterloo Bridge, his coat wrapped tight to keep out the cold.
(26) This tramp had money, real money and good furniture to show for her labours.
(27) To her right, a tramp stroked a flurry of tuneless notes from a violin.
(28) And can't you dress more decently—people will think you're a tramp.
(29) Peter Duncan has a background in acrobatics and he certainly needed it with his interpretation of the little tramp.
(30) In front of them, leaning against the stump of a tree, was an old, unshaven tramp.
More similar words:
trample,
trampoline,
ramp,
cramp,
rampage,
rampant,
cramped,
run rampant,
intramural,
untrammeled,
ultramodern,
untrammelled,
concentration camp,
camp,
damp,
lamp,
swamp,
ample,
scamp,
hamper,
tamper,
stamp,
ram,
campus,
sample,
decamp,
dampen,
revamp,
camping,
lampoon.