Synonym:
drag,
draw,
haul,
heave,
pull,
tug.
Similar words:
town,
stow,
tower,
towel,
toward,
kowtow,
bestow,
downtown.
Meaning: [təʊ] n. the act of hauling something (as a vehicle) by means of a hitch or rope. v. drag behind.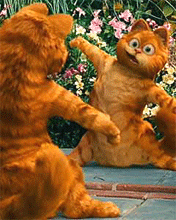 Random good picture Not show
1. A truck driver gave me a tow to the nearest garage.
2. He had been using the vehicle to tow his work trailer.
3. The broken - down car was taken in tow by a lorry.
4. The car in front of us is on tow - that's why we're going so slowly.
5. They threatened to tow away my car.
6. The glider uncoupled from the tow plane.
7. Mother with her toddler perambulated the infant in tow.
7. Sentencedict.com is a sentence dictionary, on which you can find good sentences for a large number of words.
8. There's too much slack in the tow rope.
9. The ship needed two tugs to tow it into port.
10. Hannah arrived with her four kids in tow.
11. She turned up with her mother in tow.
12. Our car doesn't have enough power to tow a trailer.
13. The damaged freighter was taken in tow.
14. Can you give us a tow to the garage?
15. The overall study has tow main objectives.
16. Skateboard Tow Head on his skateboard threads through a crowd of feet and faces delayed to a slow stupidity.
17. Friendly passersby helped her tow the plane, its wings again folded, down the highway back to Pecos.
18. If you park your car here the police may tow it away.
19. Mrs Hayes went to the supermarket with her four little children in tow.
20. He turned up at my office with two lawyers in tow.
21. The car broke down and we had to get somebody to give us a tow.
22. She arrived at the party, with a tall, silver-haired man in tow.
23. There she was on my doorstep with child in tow.
24. The ship, whose engine had failed, is now safely under tow.
25. My car won't start can you give me a tow?
26. When my car broke down, a police car gave me a tow to the nearest garage.
27. The damaged boat drifted for days before it was finally taken in tow.
28. The manufacturers of records and video games have come more easily into tow, and now have rating systems of their own.
29. Many enjoy the festival so much that they return season after season, with spouses and children in tow.
30. Sometimes they came alone, sometimes with a man in tow - to foot the bill!