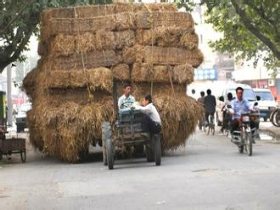 Random good picture Not show
1 The islands' economy is largely dependent upon tourism.
2 The government has been trumpeting tourism as a growth industry.
3 The growth of tourism brought prosperity to the island.
4 The city is finally realizing its tourism potential.
5 These factories have displaced tourism as the country's largest source of foreign exchange.
6 The new airport will facilitate the development of tourism.
7 Tourism was then still in its infant stage.
8 The new resort area has boosted tourism.
9 Any decrease in tourism could have serious repercussions for the local economy.
10 With the advent of the railways,(www.Sentencedict.com) tourism boomed.
11 The country's economy is dependent on tourism.
12 Tourism on the island is oversold.
13 Tourism is up, jobs are up, individual income is up.
14 Tourism is the lifeblood of the city.
15 Some accommodation between conservation and tourism is essential.
16 Tourism has replaced agriculture as the nation's main industry.
17 Without a major boost in tourism, the economy will suffer even further.
18 Tourism is the lifeblood of Hawaii's economy.
19 Tourism is Britain's single biggest invisible export.
20 Tourism has had far-reaching effects on the island's culture.
21 Tourism contributes millions of pounds to the country's economy.
22 It is unclear how to mitigate the effects of tourism on the island.
23 Most of the east coast remains mercifully untouched by tourism.
24 In this resort you can enjoy all the comfort and convenience of modern tourism.
25 We hope that this investment will lead to increased tourism in the area.
26 More than 3,000 local workers are employed in the tourism industry.
27 St Lucia depends on its clean coastal waters because fishing and tourism provide much of its income.
28 Lisbon's foreign earnings have been badly hurt by the drastic drop in tourism.
29 The depreciation of other currencies in Asia has also caused a substantial reduction in tourism.
30 Ecuador has capitalized on its natural beauty to attract tourism.
More similar words:
tourist,
flourish,
terrorism,
jurisdiction,
militarism,
during,
curious,
security,
centurion,
racism,
dismal,
tour,
dismiss,
get out,
let out,
organism,
cut out,
put out,
set out,
act out,
manufacturing,
journalism,
mutualism,
euphemism,
mechanism,
get out of,
shut out,
what is more,
count out,
in touch.