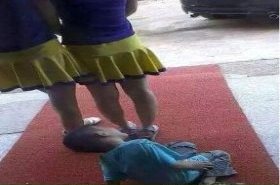 Random good picture Not show
(1) He vented his fury on a telephone box.
(2) I stumbled into the telephone box and dialed 999.
(3) She then stood next to the telephone box, her stomach beginning to tighten in a way which was becoming sickeningly familiar.
(4) Or she might call them from a telephone box on a lonely road.
(5) Local government could meet in a telephone box because function is not important.
(6) Look out for the old red telephone box which stands nearby.
(7) The headmaster pointed out the green telephone box at Fangdale Beck a tourist attraction even then.
(8) There was a telephone box just outside; she had promised to call Anne.
(9) The telephone box on the street corner - it is out of order.
(10) Go to a telephone box marked " phonecard. "
(11) You can make a call at telephone box.
(12) Is there a telephone box in the vicinity?
(13) Scotland's most famous telephone box is still a lure for visitors.
(14) Open telephone box of the public telephone booth in the presence of another authorized staff.
(15) There is a telephone box on the corner.
(16) There used to be a telephone box on the corner of the street.
(17) The red telephone box has a history of about 80 years.
(18) The car slowed down and pulled up by the telephone box.
(19) He was left with no alternative but to hobble to the nearest telephone box.
(20) We had to go a long way before we found a telephone box.
(21) And that phone call ... Part of it was overheard by one of the village ladies waiting just outside the telephone box.
(22) On the way back[Sentencedict], she made me wait on the bench outside the telephone box.
(23) How they connected it - he was on his way home and there's a telephone box.
(24) Cash stolen: Thieves who broke into Bishop Auckland bowling pavilion stole money from a telephone box.
(25) One broker was found to be operating from a telephone box at Heathrow airport.
(26) Once we spent all day - somewhere near Pitlochry, I think - in a telephone box playing battleships.
(27) A chunk of rubble half as high as a man was poised on the edge above the telephone box.
(28) This is caused the increase rate of market of telephone box module dropped 2006.
(29) For only two pence they can go into a telephone box and call their parents.
More similar words:
telephone book,
telephone booth,
telephone,
telephony,
telephonic,
telephoto,
telephoto lens,
phone booth,
mobile phone,
elephant,
elephantine,
elephantiasis,
white elephant,
teleport,
a white elephant,
telepathy,
telepathic,
telethon,
teleportation,
wine bottle,
icebox,
jukebox,
shoebox,
single-phase,
blepharospasm,
blepharochalasis,
keep house,
peephole,
phone,
phony.