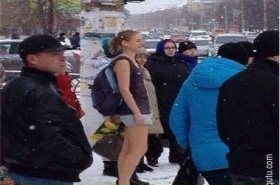 Random good picture Not show
1. His repression is caused by his stiff-necked, stifled upbringing.
2. Stubborn, proud, and often stiff-necked and argumentative.
3. We speak of some one who is stiff-necked long before they may become crippled with arthritis.
4. They were indeed a " stiff-necked people, " even as God Himself had said (see Exodus 33:5).
5. And they did not give ear, but became stiff-necked , like their fathers who had no faith in the Lord their God.
6. EXAMPLE: My stiff-necked old uncle angrily refuses to wear boots and a hat when it snows so he always gets sick each winter.
7. But they, our forefathers, became arrogant and stiff-necked, and did not obey your commands.
8. Circumcise your hearts, therefore, and do not be stiff-necked any longer.
9. You stiff-necked people, uncircumcised in heart and ears, you always resist the Holy Spirit.
10. But they would not listen and were as stiff-necked as their fathers,[sentencedict.com] who did not trust in the Lord their God.
11. You stiff-necked people, with uncircumcised hearts and ears!
12. For I know how rebellious and stiff-necked you are.
13. Do not be stiff-necked, as your fathers were; submit to the Lord .
14. But what else could be expected from such a stiff-necked people?
15. But I will not go with you, because you are a stiff-necked people and I might destroy you on the way.
16. And the LORD said to me, "I have seen this people, and they are a stiff-necked people indeed!
16. Sentencedict.com is a online sentence dictionary, on which you can find nice sentences for a large number of words.
17. While this would not have made their editions any more legal, it would have served to make stiff-necked booksellers more ready to carry the books.
18. I have seen these people, " the Lord said to Moses, "and they are a stiff-necked people.
19. I will therefore go to the mountain and thank God that he has had mercy on a stiff-necked generation.
20. For the Lord had said to Moses, "Tell the Israelites, 'You are a stiff-necked people. If I were to go with you even for a moment, I might destroy you.
21. But that attitude had changed abruptly when they were approached for a loan by a stiff-necked Brant Culhane when his fortunes sagged.
22. He also rebelled against King Nebuchadnezzar, who had made him take an oath in God's name. He became stiff-necked and hardened his heart and would not turn to the Lord , the God of Israel.
23. O Lord, if I have found favor in your eyes," he said, "then let the Lord go with us. Although this is a stiff-necked people, forgive our wickedness and our sin, and take us as your inheritance.
24. But they did not listen to me or pay attention. They were stiff-necked and did more evil than their forefathers.
More similar words:
stiffness,
high-necked,
decked,
flecked,
checked,
wrecked,
bedecked,
unchecked,
henpecked,
stiff,
shipwrecked,
stiffen,
stiffly,
mastiff,
neck and neck,
stiff upper lip,
keep a stiff upper lip,
if necessary,
neck,
V-neck,
tiff,
polo neck,
necking,
necktie,
neckband,
tiffin,
neckline,
crew neck,
necklace,
make a virtue of necessity.