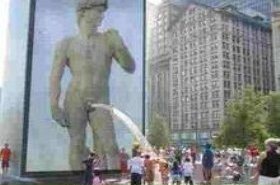 Random good picture Not show
1, Don't always try to start something when everything is running smoothly.
2, It looks like Jess is trying to start something.
3, If you start something in there, don't expect me to back you up.
4, The standard affair, nowadays, will start something like this.
5, There is often no right time to start something but you need to start anyway.
6, I want you to start something else right now.
7, The Procrastinator is always about to start something.
8, You will start something and then you will wish you hadn't bothered.
9, You say you want to start something new.
10, It is far easier to start something than to finish it.
11, I don't want to start something, I just want leave.
12, If you start something, finish it to the best of your ability!
13, There's no time like the present to start something new.
14, It's always easy to start something but hard to make it last long and well.
15, And I'm that way because when I start something, Ilike to finish.
16, Come here start something, dawg?
17, She started/began working here three months ago. Begin is often used when you are describing a series of events:The story begins on the island of Corfu. Start, but not begin, can also mean 'to start a journey', 'to start something happening' or 'to start a machine working':We'll need to start at 7.00.
18, In fact, I was thinking I might try and start something along those lines as soon as I can.
19, Apart from the 90mins one Sunil mentioned didnt one of the tabloids have an ad on Monday to start something like that up?
20, I figured I must be the only fool who was trying to start something.
21, I think we have to be autocratic about officers, at first, in order to start something.
22, It's, well, enough to get by on, but not much more,[http://sentencedict.com/start something.html] not enough to start something.
23, Whether you choose part or full - time isn't important. What matters is that you start something.
24, You fucking bitch, I said I didn't want to argue with you, but you start something.
25, We see it with New Years resolutions, the baseball season, taxes, and countless other things, as a way to start something new or start something over.
26, I asked why hasn't he did it already and his answer was that he couldn't just walk away from the job like that and he must wait until things come to a full stop before he could start something new.
27, But focus them on one tiny spot and see. how quickly they start something.
28, Jack likes to play tricks on the other boys to start something.
More similar words:
get something done,
something,
something of,
or something,
something else,
something like,
quite something,
have something to do with,
come to the same thing,
housing starts,
come to nothing,
methinks,
quite the thing,
fits and starts,
by fits and starts,
in fits and starts,
seething,
teething ring,
see things,
teething,
for one thing,
sure thing,
the thing is,
farthing,
a close thing,
earthing,
freethinking,
free-thinking,
concrete thing,
a near thing.