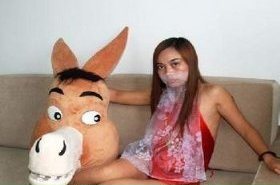 Random good picture Not show
(1) Students are unwilling to really work. They want to be spoon-fed.
(2) They had information spoon-fed to them.
(3) The students here do not expect to be spoon-fed.
(4) They were less willing to be spoon-fed doctrines from Japan.
(5) By giving out printed sheets of facts and theories, the teachers spoon-fed us with what we needed for the exam.
(6) It took two years for me to get better, during which time he spoon-fed me and did absolutely everything around the house.
(7) You can spoon-feed information to a computer.
(8) I don't believe in spoon-feeding students.
(9) Duffy refuses to fall into the trap of spoon-feeding the material to passive students, which only increases their passivity. Sentencedict.com
(10) Williams's father started out poor, made a fortune the hard way, and was contemptuous of his spoon-fed children.
(11) Some teachers spoon-feed their students.
(12) Teachers should avoid spoon-feeding facts to students.
(13) They had been spoon-fed for so long that they had lost the habit of independent inquiry.
More similar words:
spoon-feed,
spoon-fed,
spoonful,
teaspoonful,
tablespoonful,
spoon,
spoony,
teaspoon,
spoonbill,
soup spoon,
tuition fee,
tablespoon,
wooden spoon,
greasy spoon,
silver spoon,
chicken feed,
admission fee,
application fee,
registration fee,
lampoon,
harpoon,
spook,
spoof,
spool,
spoor,
enfeeble,
spooky,
unfeeling,
feed,
spooler.