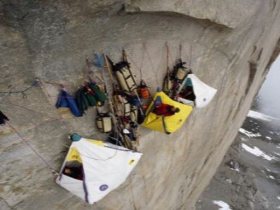 Random good picture Not show
1. You can't always sponge on me, but have to work.
2. He feels it very shameful to sponge on his parents after he's grown up.
3. Don't sponge on your parents.
4. I'm not the man to sponge on a woman.
5. Many people sponge on the kindness of others.
6. A young man like you shouldn't sponge on your uncle.
7. Objective:To explore effects of iodoform gelatin sponge on prevention of dry socket caused by impacted mandibular third molar extraction .
8. If growth still forms too rapidly, try placing some well-washed pieces of commercial sponge on the bottom.
9. An attendant from the tabernacle came along with a bucket and a sponge on a stick.
10. A triple fin fish is nearly indistinguishable from the bright red sponge on which it rests.
11. The best way to wipe out a friendship is to sponge on it.
12. He is too lazy to work and prefers to sponge on his brother.
13. Old people in the country think it is right to sponge on their children.
14. He is too lazy to work and prefers to sponge on his parents.
15. 29A jar of wine vinegar was there, so they soaked a sponge in it, put the sponge on a stalk of the hyssop plant[sentencedict.com], and lifted it to Jesus' lips.
More similar words:
sponge off,
sponge out,
sponge,
sponger,
sponge up,
sponge down,
sponge gourd,
sponge bath,
sponge cake,
throw up the sponge,
hinge on,
dungeon,
impinge on,
spongy,
sponging,
pigeon,
urge on,
gudgeon,
surgeon,
dudgeon,
bourgeon,
burgeon,
smidgeon,
sturgeon,
renege on,
bludgeon,
splurge on,
pigeon pea,
enlarge on,
clay pigeon.