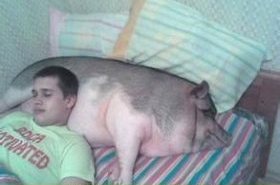 Random good picture Not show
1. She has spina bifida and related disabilities and gets around the classroom in a wheelchair that she is just learning to navigate.
2. Only 10% of children born with spina bifida are brain damaged.
3. Thus, the incidence of spina bifida decreased most dramatically when folic acid was not widely purchased.
4. Severe spina bifida was the first condition in which a policy of selective non-treatment was clearly enunciated.
5. There is a separate group for Spina Bifida children.
6. Besides the age factor, spina bifida occulta has nothing to do with paruria.
7. This form of spina bifida rarely causes disability or symptoms.
8. This variation is greater in spina bifida patients due to inherent neuroanatomic abnormalities compared with spinal cord injury patients.
9. The top five birth defects were: spina bifida, anencephaly, congenital hydrocephaly, cleft lip with cleft palate, and encephalocele.
10. Diagnosis of spina bifida requires the systematic examination of each neural arch from the clerical to the sacral region both transversely and longitudinally.
11. Conditions such as muscular dystrophy, spina bifida and tetraplegia will fall under this classification.
11. Wish you can benefit from sentencedict.com and make progress everyday!
12. There are four types of spina bifida. They differ in severity and the tissue involved.
13. The large majority - around 60% - of cases in this group have spina bifida or spinal gaps.
14. Folate deficiency causes anaemia, but occasionally is associated with neural tube defects such as spina bifida.
15. In severe cases it gives rise to the condition known as spina bifida.
16. Hydrocephalus can now be treated by the use of a valve similar to that used for cases of spina bifida.
17. Felix and Gerald, whom he recognises from his special school, have spina bifida and hydrocephalus.
18. The product range includes equipment for medical uses: eg a vehicle for children with spina bifida and portable kidney machines.
19. Results The blood supply of superior trapezius and scapular ridge are superficial of transverse cervical artery cervical artery ascending ramus and spina scapulae branch.
20. Results There are 96 neural malformation with more common hydrocephalus, anencephaly, exencephaly and spina bifida in all malformations of 359 cases, hvaccounting for 26.7%.
21. Folic acid, a type of vitamin B, has been shown to reduce neural tube birth defects, such as spina bifida or anencephaly.
22. Women with BMIs of 30 or greater were 60 percent more likely to have a child with anencephaly and 40 percent more likely to have a baby with spina bifida than their slimmer peers.
23. The concentrations of the free amino acids in the amniotic fluid of the anencephaly fetus were raised markedly whilst those of the spina bifida fetus were lower than normal.
24. Closed neural tube defects make up the second type of spina bifida.
25. For example, children of Vietnam War veterans exposed to the herbicide agent orange have an increased risk for spina bifida due to epigenetic changes.
26. Based on the findings on this sonogram, there will almost certainly be a spina bifida present.
27. Open lesion occur in early stage and are called spina bifida aperta or myelomeningocele.
28. Xiao reported an 87% success rate for regaining bladder control after lumbar to sacral nerve rerouting in spina bifida children in China [1].
29. The urodynamic and X - ray results of 31 cases of spina bifida of the sacrum were analyzed.
30. Lipomyelomeningocele is an uncommon congenital anomaly, resulting from outpouching of spinal cord and its surrounding leptomeninges through the bony defect of spina bifida.
More similar words:
spinal,
spinach,
spinal tap,
spin a yarn,
spin around,
spinal cord,
spina bifida,
spinal nerve,
spinal column,
spinal fusion,
cerebrospinal,
infraspinatus,
cerebrospinal fluid,
spinal canal,
spin,
spiny,
spine,
spinet,
spined,
spin-off,
spin out,
spin off,
spinoff,
lisping,
spinous,
gasping,
spinoza,
spinney,
spinner,
crispin.