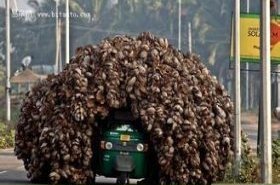 Random good picture Not show
1. There is a special discount for staff.
2. The hotel has a special discount rate for newlyweds.
3. What special discount service can people get for gold one?
4. On these sales we shall allow you a special discount of 15 %.
5. We give a special discount of 10 per cent for cash.
6. He sold goods to her at a special discount.
6. Wish you will love sentencedict.com and make progress everyday!
7. The Special Discount rate is available to subscribers of Dow Jones products and members of our supporting organizations.
8. There will be a special discount if you buy pencils in dozens.
9. Remark: Special discount will be offered for group booking.
10. I am a BFA member who enjoys special discount on registration fee.
11. We'll give you an extra special discount for buying this merchandise.
12. S : Certainly, sir. We offer special discount for bulk purchase.
13. We will give our regular customers a special discount of 10 %.
14. In view of this, we should appreciate your special discount.
15. He sold the goods to her at a special discount.
16. We may offer you a special discount of 10 %.
17. We'll give you a special discount on this item.
18. Our company have VGA cable supply, the price special discount, welcome order!
19. Thank you for your special discount.
20. Air UK are currently offering tickets to students at a special discount.
21. In addition, Robert Adam: Architect of Genius is offered at a special discount price to all visitors to the exhibition.
22. To help out couples with the expense of setting up home Gilmore's have a special discount scheme.
23. We could make an arrangement with you, not a special discount.
24. We have adjusted our price and given you a special discount of 3 percent.
25. I suggest you make the reservation now because theres a special discount.
26. We are prepared to offer our computers to you at the special discount rate of 15 %.
More similar words:
special account,
discount,
discount coupon,
special delivery,
at a discount,
cash discount,
discount bond,
discount rate,
trade discount,
discount period,
discount store,
racial discrimination,
discount broker,
discount market,
volume discount,
discounted rate,
purchase discount,
quantity discount,
discounted cash flow,
special,
especial,
specially,
specialty,
especially,
specialist,
specialise,
speciality,
specialize,
specialism,
viscount.