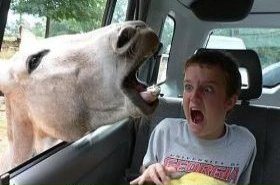 Random good picture Not show
1. Before release, the sea lions are fitted with electronic tracking devices.
2. Sea lions have been found with their sensitive muzzles cut from playing with tin cans that have fallen to the ocean floor.
3. That same year, authorities investigated five attacks on sea lions in San Diego Bay.
4. Voracious consumers of fish, sea lions have been the targets of wrathful fishermen in the San Diego area.
5. The use of the sea lions is a great leap forward in whale-tracking technology, Hurley said.
6. Fur seals and sea lions are restricted to the Bering Strait area and seldom enter icy waters.
7. Sea Lion Overlook, for a view of sea lions and harbor seals.
8. Nearby is Sea World, the home of sea lions, killer whales and other marine animals which perform before entranced audiences.
9. A sea lion was spotted this week along a rural roadside in central California.
10. The 185 - pound Steller sea lion waddled ashore, shocking students and teachers.
11. But that didn't stop a sea lion from joining schoolchildren on a walk - a - thon.
12. The sea lion seems to enjoy showing off.
13. A Steller sea lion patrols rich Pacific feeding grounds near Canada's Bowie Seamount.
14. The threatened Australian sea lion is found only in the Great Australian Bight, which arcs around the southern shore of the continent.
15. A young California sea lion basks in the sun on the beach at San Onofre, California on April 4.
16. Scientists are also eying the Steller sea lion, which redirects blood flow away from non-critical organs during deep sea dives and reduces oxygen demand.
17. Locals say the development would stress the sea lion colony and effect two others nearby.
17. Sentencedict.com is a sentence dictionary, on which you can find good sentences for a large number of words.
18. The camera caught a sea lion slimed into and hijacked a policy sail.
19. The Killer whales hunted sea lion calf in disguise by the flood tide.
20. But as if to allay our disappointment, teams of curious sea lions kept popping up near our kayaks.
21. By one of the legs is a clump of dust shaped like a sea lion with its head and neck raised.
22. Last year biologists from the Marine Mammal Centre collected 75 wounded sea lions, most of which died.
23. Until recently, commercial fishermen had been allowed to shoot sea lions if they tried to steal their catch.
24. It's a great place from which to watch killer whales and sea lions.
25. It is not that the pollock itself would be endangered at this stage, but Steller's sea lion, which the act covers, might be threatened if too much of its food were being eaten by people.
26. Like a dim-witted teenager in a bad horror flick, this oblivious sea lion pup frolics in clear view of a hungry predator...
27. Discovered only 2 years ago, scientists now consider it one of the nation's most important Australian sea lion breeding colonies.
28. An energetic little kelpie named "Westie" was rescued after it chased a sea lion four kilometers out to sea from a South Australia beach, according to the Sydney Morning Herald.
29. Keepers plan to anchor them to the bottom of the sea lion exhibit.
30. The newest newborn at the Berlin Zoo, this California sea lion cub named Diego.
More similar words:
sealing,
battalion,
realization,
seal,
reseal,
sea level,
lion,
deal in,
realist,
realism,
realize,
realise,
reality,
lioness,
realised,
stealing,
real income,
realized,
idealist,
come alive,
idealize,
idealism,
stallion,
billion,
million,
pillion,
scallion,
bullion,
revealing,
realistic.