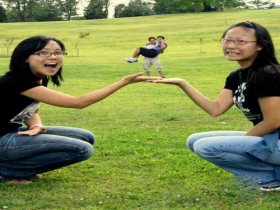 Random good picture Not show
(1) The problem with such puddles, Rubberneck would suffer violent bellyaches and explosive diarrhoea.
(2) Rubberneck, the beating stopped, a pause, peeked out between his fingers.
(3) Rubberneck knew only pennies, copper coins.
(4) Rubberneck was gripped by a restlessness.
(5) At times Rubberneck wept, shed, and for no apparent reason, bucketing tears in dreadful fits of sadness.
(6) And she heard the people, the shouting below, Rubberneck, full handfuls, dispensing her alms.
(7) For Rubberneck had the unfortunate habit of hanging around outside school play-yards. Sentencedict.com
(8) Rubberneck chewed his fingernails; they were long bony fingers, bitten to the quick.
(9) Don't be a rubberneck!
(10) He is a rubberneck.
(11) But with a new-found strength she swung it as a feather, at the luckless Rubberneck.
(12) Crews pulled the wreckage off the highway, but drivers continued to rubberneck and cause delays.
(13) Data for individual Zip codes is intriguing, whether you're in the market or you just like to rubberneck.
More similar words:
rubber,
rubbery,
shrubbery,
rubber-stamp,
rubber eraser,
rubbed,
blubber,
internecine,
rubble,
grubby,
rubbish,
scrubby,
scrub brush,
neck,
polo neck,
necklace,
robber,
gibber,
jabber,
jobber,
robbery,
slobber,
blabber,
bottleneck,
high-necked,
neck and crop,
pain in the neck,
neck or nothing,
jabbering,
gibberish.