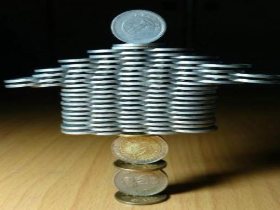 Random good picture Not show
1. Index arbitrage is used to gain risk-free profits from short-term differences in the price of the index futures and the underlying shares.
2. Provided the margin payments earn interest at the risk-free rate, the resulting no-arbitrage condition is unaltered.
3. These should then be discounted by the risk-free rate of interest to produce the present values of and respectively.
4. The market return minus the risk-free return is the risk premium that investors expect for investing in the market portfolio.
5. However, when the risk-free asset is introduced to this situation investors will all either borrow or lend at the risk-free rate.
6. In this variant the risk-free asset is replaced by the zero-beta portfolio.
7. That is why such debt is regarded as risk-free (or in Britain, gilt-edged), although only inflation-linked bonds may merit that description.
8. And money saved is both risk-free and exempt from taxes.
9. Take advantage of spread that can make risk-free arbitrage and cross-commodity arbitrage in order to optimize the hedging effect.
10. The stock price is $50, and the risk-free rate of interest is 8% per annum with continuous compounding for all maturities.
11. This paper extends on the base of risk-free interest rate structure and introduces the model of floating interest rate structure.
12. There really is no such thing as a totally risk-free industry.sentencedict.com
13. But doing that inevitably brings the risk back into what was a risk-free investment.
14. The 90 day treasury bill rate was used as a proxy for the risk-free rate of interest.
15. Blood banks must balance hospitals' need for blood with the need to draw blood only from healthy, relatively risk-free volunteers.
16. The advantage of the forward market is that the transaction is risk-free: the price is specified now, with certainty.
17. U.S. Treasury bills are the textbook definition of a safe haven asset, historically one of the most risk-free assets you can buy next to precious metals.
18. Through analyzing and comparing the utility on minimum variance curve with risk-free assets, we find that it's better to invest financial product than risk assets all.
19. The author also considered the optimum portfolio selection problem with risk-free assets and gave a instance to show how to solve the problem.
20. Values lurched downward as investors in British property woke up and stopped accepting ever lower yields: at one stage these had dropped below even yields on risk-free government bonds (see chart).
21. The inevitable levering of asset structures to double or quadruple returns relative to risk-free assets?
22. Historically the great appeal of government bonds to investors is that they are a risk-free, liquid asset.
23. It is not the capital funding of banks that is the problem, but rather the fact that government bonds have lost their status as risk-free assets.
24. "The bond rally is a function of the economy's weakness," said David Resler, chief economist at Nomura Securities in New York. "In a recession, investors want risk-free assets."
25. Insurers invest large chunks of the premiums they receive from customers in government bonds, usually considered risk-free, but now some of these have been hit by the euro zone's debt woes.
26. Even if that saves you just $10 a year, that's 20%. (It will probably save you much more. ) And money saved is both risk-free and exempt from taxes.
27. For the time being, the distress-driven demand for dollars and risk-free assets is pushing down the cost of all this borrowing.
28. If you are buying bonds from a stable government, your investment is virtually guaranteed, or risk-free.
29. And reserves are an attractive vehicle for that: they are one of the world's few remaining risk-free assets, and at 0.25%, they pay more than Treasury bills.
More similar words:
quick-freeze,
free-enterprise,
free enterprise,
clock frequency,
freedom of religion,
degree of freedom,
risk,
frisk,
brisk,
risky,
frisky,
own risk,
briskly,
riskily,
low-risk,
brisket,
pure risk,
frisking,
asterisk,
run a risk,
high-risk,
fire risk,
riskless,
tamarisk,
at all risks,
take a risk,
riskiness,
at the risk of,
risk taker,
briskness.