Synonym:
actually,
genuinely,
in truth,
rattling,
real,
truly,
very.
Similar words:
real,
realm,
realize,
realistic,
heal,
seal,
dealer,
wealth.
Meaning: ['rɪəlɪ ,rɪːlɪ ,'rɪ-] adv. 1. in accordance with truth or fact or reality 2. in actual fact 3. in fact (used as intensifiers or sentence modifiers) 4. used as intensifiers; `real' is sometimes used informally for `really'; `rattling' is informal.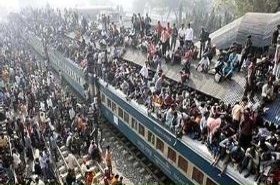 Random good picture Not show
1. Nothing is
really
beautiful but truth.

2.
Really
, what we want now, is not laws, against crime, but a law a -gainst insaity.

3. To
really
understand a man we must judge him in misfortune.

4. The only man who is
really
free is the one who can turn down an invitation to dinner without giving any excuse.

5. Don't believe that winning is
really
everything. It's more important to stand for something. If you don't stand for something, what do you win?

5. Sentencedict.com is a online sentence dictionary, on which you can find excellent sentences for a large number of words.
6. After a week of camping, I really needed a bath.
7. He's not really ill - he's just trying it on.
8. He is not really suited for a teaching career.
9. He looks scary but he's really a gentle giant.
10. I feel really guilty at forgetting her birthday again.
11. He keeps getting at me and I really don't know what I've done wrong.
12. Tomato sauce stains terribly - it's really difficult to get it out of clothes.
13. She's really squeamish and can't stand the sight of blood.
14. Thanks for a great evening. I really enjoyed it.
15. The home team really blitzed the visiting team.
16. I've eaten so much, I'm really quite uncomfortable.
17. It really depends on who is in charge.
18. If the world really can not only put me, I would be into the magic of how.
19. Many people never really express any anger.
20. When you really love something when you will find language how fragile and limp. Text and feeling always have the estrangement.
21. It really screwed him up when he saw his friend get killed.
22. You look really stunning in that dress!
23. A state which dwarfs its men,in order that they may be more docile instruments in its hands even for beneficial purposes will find that with small men no great thing can
really
be accomplished.

24. It is the peculiarity of knowledge that those who
really
thirst for it always get it.

25. Fame turns all the lights on and while it gives power and prestige, it takes the you out of you; you must be what the public thinks you are.not what you
really
are or could be.

26. He came to see me on/under the pretext of asking my advice when he really wanted to borrow money.
27. She wouldn't tell me how much it cost - not that I was really interested.
28. When you are young, you may want several love experiences. But as time goes on, you will realize that if you really love someone, the whole life will not be enough. You need time to know, to forgive and to love. All this needs a very big mind.
29. I think the historical factor is overplayed, that it really doesn't mean much.
30. The difference between successful persons and others is that they really act.