Synonym:
actual,
authentic,
bona fide,
certain,
genuine,
honest,
legitimate,
pure,
sincere,
substantial,
true.
Antonym:
apparent,
ideal,
imaginary,
personal,
unreal.
Similar words:
really,
realm,
realize,
realistic,
seal,
heal,
dealer,
appeal.
Meaning: [rɪəl ,rɪːl] n. 1. any rational or irrational number 2. an old small silver Spanish coin. adj. 1. being or occurring in fact or actuality; having verified existence; not illusory 2. no less than what is stated; worthy of the name 3. being or reflecting the essential or genuine character of something 4. not to be taken lightly 5. capable of being treated as fact 6. being value measured in terms of purchasing power 7. having substance or capable of being treated as fact; not imaginary 8. (of property) fixed or immovable 9. coinciding with reality. adv. used as intensifiers; `real' is sometimes used informally for `really'; `rattling' is informal.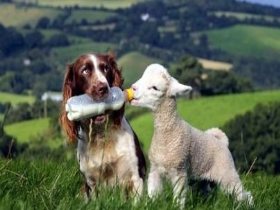 Random good picture Not show
(1)
Real
knowledge, like everything else of value, is not to be obtained easily, it must be worked for, studied for, thought for, and more than all, must be prayed for.

(2) The measure of a man's
real
character is what he would do ifhe knew he would never be found out.

(3)
Real
peace doesn't mean absence of war.

(4) Achievement provides the only
real
pleasure in life.

(5) These machines have proved a real boon to disabled people.
(6) Good old Edna - she's a real trouper to do the washing-up without even being asked!
(7) It was a real team effort - everyone contributed something to the success of the project.
(8) The little lad was a real handful. He was always up to mischief.
(9) A very real danger exists of the conflict becoming internationalised.
(10) It's okay to have flaws, which makes you real.
(11) Let's do our work for real.
(12) It was a real shock, the first time I heard my mother swear.
(13) It's okay to have flaws, which make you real.
(14) I felt real empathy for my mother and what she had been through.
(15) Manchester United took a real pounding.
(16) A TV can be a real blessing for old people.
(17) This puzzle is a real sod.
(18) The film on police methods was a real eye-opener for me.
(19) This could bring real benefits for teachers.
(20) My sister's little boy is a real delight.
(21) His cheerful manner belied his real feelings.
(22) Passing the exam was a real fluke he didn't work for it at all.
(23) Are your shoes real leather or plastic?
(24) She claimed that the real crime is that burglars and muggers usually get a light sentence.
(25) Where there is a real superiority of mind, pride will be always under good regulation.
(26) His public image is very different from the real person. Sentencedict.com
(27) At the end of the match, the pitch was a real quagmire.
(28) Anything one man can imagine, other men can make real.
(29) Frankly speaking, I don't think it any good to invest in real estate.
(30) Go most urgent, is the most beautiful scenery; hurt the most are always the most real emotions.